Dottie & Phoenix – Applications now closed – Midlands
These girls are a beautiful, bonded pair.
Dottie is an extremely affectionate little girl who will happily spend her days being cuddled and fussed on, her whole body will wiggle in excitement and she will jump up and pop her paws right up on you to get in all that closer for those cuddles.
Phoenix definitely suits her name as you will find her cuddled up in front of the fire, she has no problem reminding you she needs love and cuddles too with a bark, she will make sure she gets her fair share of attention.
Both these girls have wonderful personalities and are every bit the typical bulldog. Neither are overly playful with toys, and tend to prefer the softer squeaky toys and a tennis ball. And will on occasion have a game of bulldog bitey face.
Both girls are very gentle in nature. Both girls have settled well with the resident dog. And both enjoy gentle walks but are just as happy to snooze somewhere cosy.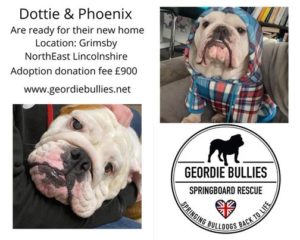 Dogs name: Dottie & Phoenix
Age: Dottie 2 Phoenix 3
Can live with children: Yes, Dog Savvy Children
Can live with dogs: Yes, laid back spayed/neutered dog           
Can live with cats: Untested
Current location: Grimsby, North East Lincolnshire
Things to be aware of:
Dottie was extremely nervous when she first came into foster, so it may take her a little time to come out of her shell, we promise the patience is worth it.
Unfamiliar sounds/noises can make her jump and she will come to you for reassurance. Phoenix has some skin issues that are controlled by diet and regular bathing and coconut oil. She must stay on her raw feed diet to insure her health and wellbeing.
The ideal home:
A calm, active family life would suit these girls perfectly. One that they can be included in all aspects of family life. And be spoiled with affection like the Queens they are. The girls are independent enough to be alone for a few hours, but not left for long periods. Any young children should be supervised, in case the girls knock them over or they feed the girls food that can cause Phoenix to have a reaction.
Other comments:
This stunning quirky bonded pair will be a truly fantastic addition to a family. They will bring bundles of love and so much entertainment. The perfect additions to complete your family.
Their adoption donation fee is £900 and will need to be paid in full prior to them going home which will also be subject to a home check.
**The successful applicant will need to have an active Facebook and Messenger account for the life of the dog. If you cannot agree to this, please don't apply**

🚨 PLEASE READ CAREFULLY BEFORE APPLYING 🚨
 
You MUST MEET ALL the dogs' criteria, have you read the adoption criteria in full?
COMPLETE APPLICATION FORM
PAY YOUR £5 SUBSCRIPTION – SEE NOTE BELOW*
PAYMENT REFERENCE must on the application form to cross reference. Mention if you have paid by Paypal or Bank Transfer if you are unable to provide a Transaction Number so we can check.
PAYMENT METHOD Via Enthuse using the link below.


https://geordiebullies.enthuse.com/donate
Note:
UNLESS WE SEE PROOF YOU HAVE PAID; WE WILL NOT PROCESS YOUR APPLICATION AND YOU WILL NOT BE CONTACTED.

£5 per year allows you to apply for as many dogs as you wish over a 12 month period from your first application. Please mention if you have paid by Paypal or Bank Transfer on any previous applications so we can cross reference.

Below is the link to the Application Form.
https://www.cognitoforms.com/GeordieBulliesSpringboard1/adoptionapplication
{"slide_to_show":"3","slide_to_scroll":"1","autoplay":"true","autoplay_speed":"3000","speed":"800","arrows":"true","dots":"false","loop":"true","centermode":"false"}