Elsie is a timid and placid little girl who is very loving once she has warmed to you. She needs a little verbal encouragement with new people but soon she relaxes and enjoys fuss and attention.
She enjoys her walks, and she is scared of new dogs when she first meets them, but she will play and then she will let the dog know when she has had enough. Elsie doesn't play with toys or balls
Elsie understands commands and is a very well-behaved little girl.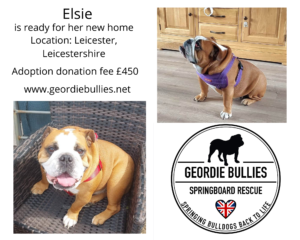 Dogs name: Elsie
Age:  3 Years, 11 months
Can live with children: Yes
Can live with dogs: Yes, non-dominant, friendly, sterilised
Can live with cats:  Untested
Current location:  Leicester, Leicestershire
Things to be aware of: 
Elsie has had BOAS surgery that requires no further treatment.
The ideal home: 
Elsie would be best suited to a calm home either with or without a resident dog. She adores being around her family and any children in the home will need to be dog savvy and understand when Elsie wants some 'calm time' and obviously, young children must be supervised.
Other comments: 
Elsie is a timid little girl that was being left for long periods in her former home. She has been great in foster, and she makes lovely attachments once she relaxes and gets to know you.
She is somewhat of an anxious traveller so she will need someone on the back of the car with her when she goes home if its more than an hour away
Elsie's adoption donation fee is £450 and will need to be paid in full prior to her going home which will also be subject to a home check.
🚨 PLEASE READ CAREFULLY BEFORE APPLYING 🚨
1. You MUST MEET ALL the dogs' criteria, have you read the adoption criteria in full? 
COMPLETE APPLICATION FORM
PAY YOUR £5 SUBSCRIPTION – SEE NOTE BELOW**
PAYMENT REFERENCE must on the application form to cross reference. Mention if you have paid by Paypal or Bank Transfer if you are unable to provide a Transaction Number so we can check.
PAYMENT METHOD Via Enthuse using the link below.
Geordie Bullies Springboard Rescue – donate
Note:
UNLESS WE SEE PROOF YOU HAVE PAID; WE WILL NOT PROCESS YOUR APPLICATION AND YOU WILL NOT BE CONTACTED.
£5 per year allows you to apply for as many dogs as you wish over a 12 month period from your first  application. Please mention if you have paid by Paypal or Bank Transfer on any previous applications so we can cross reference.
Here is the link to the Application Form.
https://www.cognitoforms.com/GeordieBulliesSpringboard1/adoptionapplication
ar old unspayed bitch.
We were contacted by Elsie's owner as she had to return to full time work. Elsie suffers with separation anxiety and as a result of this she can't be left for long periods of time, working full time meant she was left long hours and her owner wanted a better life for her.
She is yet again another dog who has come into us with bad cherry eye and they are also gunky eyes ..
Elsie is now in foster with Heather Willis & family in the midlands she has settled well and has allowed Heather to clean one of her eyes.
When she is ready for her forever home her adoption Poster will be shared, so please keep your eyes peeled for more Elsie updates.
Welcome to your GBSR Family Elsie! We cannot wait to share the next chapter of your life with you
Follow Elsie https://www.facebook.com/geordiebullies/