Luna is a gentle girl with good manners. She isn't hugely energetic, preferring to mooch about or lay down with her chew toys. She loves being touched all over and really enjoys a good fuss and cuddles.
Luna walks very well on the lead, has a good recall and understands commands, she is a happy walker and enjoys being out and about.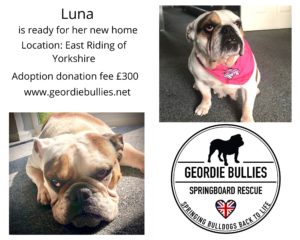 Dogs name: Luna
Age:  6 Years
Can live with children:  Yes
Can live with dogs: No but she is friendly with dogs outside
Can live with cats:  Untested
Current location:  East Riding of Yorkshire
Things to be aware of: 
We are homing Luna unspayed. The charity will organise and pay for Luna's spay at a vet of our choice once she is ready.
Luna can be a bit 'Humpy', she displayed this behaviour when she first came into foster but her foster mum used a spray bottle to deter her and she has worked well.
The ideal home: 
Luna will make a great family pet for anyone where she will not be left for long periods as she hasn't been left very much at all in foster. She enjoys being in the garden so ideally her new home will have one for her to use.
Luna enjoys all interaction, and she has lived with young children before so we are happy for her to go to a young family where she will be included in family life but obviously, any young children would need to be supervised.
Other comments: 
Luna is a very happy and well-adjusted little girl with good manners who will make a fabulous family pet. Her humping has completely stopped but she may regress a little in her new home while she settles.
She isn't used to long journeys but will settle if there is a passenger next to her so we will consider a new home for Luna up to 4 hours from her current location.
Luna's adoption donation fee is £300 and will need to be paid in full prior to her going home which will also be subject to a home check.
🚨 PLEASE READ CAREFULLY BEFORE APPLYING 🚨

1. Have you read the adoption criteria in full?  You must meet ALL dog's criteria.
2. COMPLETE APPLICATION form and pay your £5 subscription
3. PAYMENT REFERENCE must on the application form to cross reference.
4. PAYMENT METHOD : pay via PayPal www.paypal.me/gbspringboard or
Bank transfer Sort : 09.01.28 Acc : 92014344.

🚨 UNLESS WE SEE PROOF YOU HAVE PAID; WE CANNOT PROCESS YOUR APPLICATION 🚨.

£5 per year allows you to apply for as many dogs as you wish should you not be suitable on your first Application.
To apply, please complete the application form below

https://www.cognitoforms.com/GeordieBulliesSpringboard1/adoptionapplication
Follow Luna https://www.facebook.com/geordiebullies/