Oliver – Applications Closed! – South East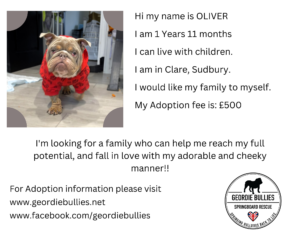 Dogs name:
Oliver
Age:
1 year 11months
Current location:
Clare, Sudbury.
I CAN LIVE WITH
Children:
Yes, dog savvy children.
Cats:
No.
Dogs:
No.
A BIT ABOUT ME
Personality:
Oliver is a very special little boy.
He is an affectionate, and he adores children.
He has a typical stubborn but sweet nature and has perfected the deaf ear!
Oliver has led a very sheltered life but is so happy and loves all attention.
Behaviour:
Oliver is excitable and will take every opportunity to get attention.
He is learning how to interact with other dogs and can be anxious, he is happy to interact with dogs outside the home with slow introductions, but finds it overwhelming indoors.
He doesn't quite understand "dogs play behaviour" and can get carried away, but he holds no malice.
Oliver is only just learning about the big wide world and as you can imagine this can be intimidating for him.
However, he will spoil and love on any human he meets.
Needs:
Oliver needs a calm, patient family, who understands his needs and are willing and able to continue training.
Oliver needs a family prepared to help his skin continue to heal and his fur grow back.
Walk/exercise:
Oliver needs continued leash training to help him get used to it.
He can be anxious around unfamiliar dogs and need his space, so must be kept on leash. As his confidence grows and he understands his training this will continue to improve.
With slow introductions with familiar dogs he will get used to and be able to walk with them.
Toilet trained:
Oliver may have the occasional accident during his settling in period, but with a continued toileting routine he will soon learn.
Can be left:
Oliver can be left for up to 4 hours, he will settle down anywhere comfy and nap until you come home.
Travel:
Oliver travels well, because of this we will accept applications of up to four hours away from his current location.
Things to be aware of:
Oliver came into GBSR from a shelter as a stray, and he was in a terrible state.
Oliver is currently under treatment for his skin as he has untreated allergies and demodex. His family must be prepared to continue treatments help his skin with regular baths. This treatment will need to continue in his new home, and he must stay on his current hypoallergenic diet.
Due to his skin condition Oliver, he will be going home on a "to be neutered" contract which will be undertaken at a vet of our choice with costs covered by the charity. His cherry eye will be repocketed during his neuter.
Any young children in the home must be supervised, as Oliver is an excitable boy and has the potential to jump and knock children over.
Children must understand that bulldogs need time to settle in and have space to rest peacefully and uninterrupted. And they must never attempt to take a toy from him.
Additional information:
Sadly, Oliver's life didn't start out great, but this little boy has much to learn and even more to offer. He will continue to grow in confidence and bloom into an incredible young bulldog. All he needs is the right family who is ready to give him all the love and guidance he needs. 
Oliver's adoption donation fee is £500 and will need to be paid in full prior to him going home which will also be subject to a home check.
**Every dog rehomed by GBSR receives Rescue Back-up for their whole Life. And the admin team are available for advice and support for the whole of that dog's lifetime via Messenger, therefore the successful applicant will need to have an active Facebook and Messenger account for the life of the dog. If you cannot agree to this, please don't apply**
🚨 PLEASE READ CAREFULLY BEFORE APPLYING 🚨
You MUST MEET ALL the dogs' criteria, have you read the adoption criteria in full?
COMPLETE APPLICATION FORM
PAY YOUR £5 SUBSCRIPTION – SEE NOTE BELOW*
PAYMENT REFERENCE must on the application form to cross reference. Mention if you have paid by Paypal or Bank Transfer if you are unable to provide a Transaction Number so we can check.
PAYMENT METHOD Via Enthuse using the link below.
https://geordiebullies.enthuse.com/donate
Note:
UNLESS WE SEE PROOF, YOU HAVE PAID; WE WILL NOT PROCESS YOUR APPLICATION AND YOU WILL NOT BE CONTACTED.
£5 per year allows you to apply for as many dogs as you wish over a 12-month period from your first application. Please mention if you have paid by PayPal or Bank Transfer on any previous applications so we can cross reference.
Below is the link to the Application Form.
https://www.cognitoforms.com/GeordieBulliesSpringboard1/adoptionapplication
A little of Oliver's story below,
Please welcome Oliver into our Springboard family 
This young boy was an urgent collection from kennels yesterday. We knew he had cherry eye but we hadn't realised just how bad his condition was until Helen Lerski's father jumped into action and collected him for us until his FM Rachael Caulkett could collect him and take him home to the South East.
As soon as Rachel got him home, she arranged to get him to the vet so he could start treatment ASAP
His ailments are:
Retained Testicle
Demodex with a secondary skin infection
Horribly infected eyes and cherry eye in both
Very sore swollen feet and long claws
And as you can see, he is skinny with a boated tummy so along with the steroids, antibiotics, shampoo, Demodex tablet and eye drops, Oliver started his worming treatment and is now eating decent food (which he can't get enough of)
Oliver is not even 2 years old and already this is the life he has lead, from the state of him he has probably been neglected for most, if not all of his life – it truly is heartbreaking…!!
Thank you very much to your dad Helen for securing this little lad and for Rachel for dropping everything to collect him.
Oliver is now in foster in the southeast, he was a bit unsettled last night, but he will soon be enjoying the comforts of being GBSR boy in the arms of his Springboard family.
Follow Oliver https://www.facebook.com/geordiebullies
For more updates on all our dogs please join our community group
https://www.facebook.com/groups/1793138384086708/
{"slide_to_show":"3","slide_to_scroll":"1","autoplay":"true","autoplay_speed":"3000","speed":"800","arrows":"true","dots":"false","loop":"true","centermode":"false"}