Rufus came into foster as a spina-bifida puppy but this condition isn't holding this adorable young boy back.
Rufus loves all forms of human contact. He has been in foster with a busy young family, a resident bulldog, cats and rabbits and he has loved having all the interaction and this has helped keep him stimulated and moving.
The loves of Rufus's life are toys, especially squeaky ones, food, he will need a slow feeder as he adores food and its gone in a jiffy and being around the children.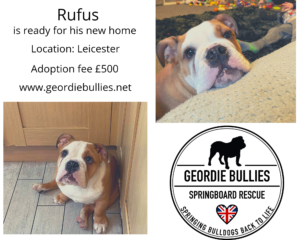 Dogs name:  Rufus
Age:  20 weeks
Can live with children:  Yes
Can live with dogs:  Yes
Can live with cats:  Yes
Current location:  Midlands
Things to be aware of: 
Rufus needs continued commitment from his new family to exercise & massage him. He needs short walks to maintain healthy muscles in is back end and twice daily massages to his back legs. This doesn't take very long, and his foster mum can advise.
Generally, Rufus is able to get outside to toilet, but he does have accidents in his crate overnight. Rufus is on a raw diet which he will need to stay on as this helps limit how many times, he needs to open his bowels.
The ideal home: 
Rufus has been fabulous in a busy family home so we are happy for him to be rehomed to a similar environment although children will need to be very mindful of his back end as his back legs could easily be damaged is a child fell over onto him.
Also, to continue with his toilet training, there will need to be someone at home for most of the day so he can be encouraged to go out every hour.
Other comments: 
Rufus has had a thorough medical with our vets and they have advised us there is no operation available for his condition.
He has a deformity in his vertebrae around the end of his rib cage and this causes his back legs to be weak because the spinal cord is compressed.
Rufus is like any other playful puppy; he is not aware that life is any different for him but is long term prognosis is unknown.
The vets are unable to say whether Rufus's condition will stay the same or deteriorate as he gets older, he may need nappies and he may need wheels… but he may not.
Today he is doing amazingly well, he walks but is a bit wobbly and he has the odd toilet accident, but he is still a puppy in training.
It is essential that he maintains good muscle tone in his back legs which requires building up with gentle exercise (walking) and his new family will need to keep him on a raw diet and keep his weight in check to give him the best possible chance of continued mobility.
Rufus will be rehomed un-neutered so we cannot rehome him with an entire bitch. We will recall Rufus to be sterilised, once he is old enough.
Rufus can be a little stressed travelling in the car so ideally, he will be transported in a crate. He does settle down so we will consider a new home up to 4 hours from his location in Leicester.
If you have any questions, please ask Louise Toon foster mum to Rufus
Rufus' adoption fee is £500 and will need to be paid in full prior to him going home which will also be subject to a home check.

🚨🚨 PLEASE READ CAREFULLY BEFORE APPLYING 🚨🚨

1. Have you read the adoption criteria in full?  You must meet ALL dog's criteria.
2. COMPLETE APPLICATION form and pay your £5 subscription
3. PAYMENT REFERENCE must on the application form to cross reference.
4. PAYMENT METHOD : pay via PayPal www.paypal.me/gbspringboard or
Bank transfer Sort : 09.01.28 Acc : 92014344.

🚨🚨 UNLESS WE SEE PROOF YOU HAVE PAID; WE CANNOT PROCESS YOUR APPLICATION 🚨🚨.

£5 per year allows you to apply for as many dogs as you wish should you not be suitable on your first Application.
To apply, please complete the application form below

https://www.cognitoforms.com/GeordieBulliesSpringboard1/adoptionapplication
{"slide_to_show":"3","slide_to_scroll":"1","autoplay":"true","autoplay_speed":"3000","speed":"800","arrows":"true","dots":"false","loop":"true","centermode":"false"}