** CORONA VIRUS ** Please note we cannot accept applications or expressions of interest in any of our dogs until the Lockdown has been relaxed – Thank you for your understanding **
Bentley is a big loving affectionate Bulldog who loves a good cuddle and plenty of fuss. He walks well on his lead and is happy to meet dogs outside the home. Bentley understands basic commands which he does in his own time like a typical Bulldog and he needs further training with his recall.
He can become excitable, so rough play has not been encouraged but he loves his toys.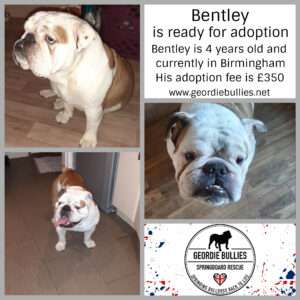 Dogs name:  Bentley
Age:  4 Years old
Can live with children:  Yes
Can live with dogs:  Yes
Can live with cats:  Yes, with a dog savvy cat
Current location:  Birmingham
Things to be aware of: 
Bentley came into foster displaying separation anxiety. His foster family have worked hard to help him overcome this and he can now be left for up to 4 hours, but he might regress for a short period in a new home. We can provide guidance with this if required.
Bentley has ongoing issues with his ears which need cleaning daily, we can advise the new owners on this.
The ideal home: 
Bentley needs the company of at least 1 other dog in the home as he takes confidence from canine company. He is currently in a family home with children and where someone is home for a good part of the day so a similar home would be perfect for Bentley.
Other comments: 
Bentley has been very good with the children in his foster home, but he has a tendency to be possessive over balls and toys, so any other dogs in the home will need to be relaxed about toys. His foster mum has been working on the No and Leave commands, and this will need continued attention.
Bentley is neutered and house trained and can be left for a maximum of 4 hours. He travels well so we will consider a new home up to 4 hours from his current location in Birmingham.
If you have any questions, please ask Trish Plaister, foster mum to Bentley
Bentley's adoption fee is £350 and will need to be paid in full prior to him going home which will also be subject to a home check.
?? PLEASE READ CAREFULLY BEFORE APPLYING ??
1. Have you read the adoption criteria in full?  You must meet ALL dog's criteria.
2. COMPLETE APPLICATION form and pay your £5 subscription
3. PAYMENT REFERENCE must on the application form to cross reference.
4. PAYMENT METHOD : pay via PayPal www.paypal.me/gbspringboard or
Bank transfer Sort : 09.01.28 Acc : 92014344.
?? UNLESS WE SEE PROOF YOU HAVE PAID; WE CANNOT PROCESS YOUR APPLICATION ??.
£5 per year allows you to apply for as many dogs as you wish should you not be suitable on your first Application.
To apply, please complete the application form below
https://www.cognitoforms.com/GeordieBulliesSpringboard1/adoptionapplication