2nd September 19 – Update on Ayesha's adoption requirements.
Ayesha has been getting on well with the other dogs in her foster home so we feel she can be re-homed with another dog as long as they are not dominant.
Ayesha is a sweet girl who loves her cuddles and adores a fuss. She can be nervous in new surroundings, but she soon settles down and her lively character comes out. She loves to play ball and enjoys her walks but needs encouragement to keep moving as once she is on grass, she will lay down!!
Her recall is good, and she will sit, paw and go to bed as asked.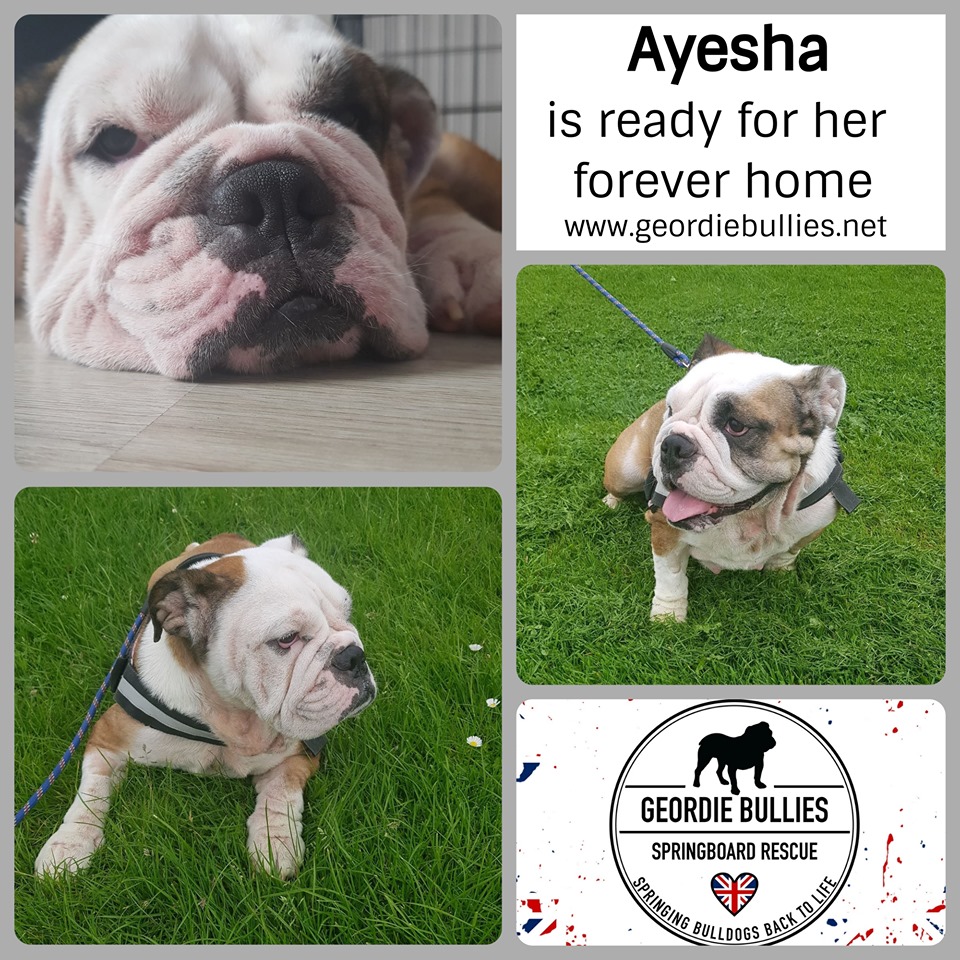 Dogs Name: Ayesha
Age: 3 years 10 months
Can live with children: Yes
Can live with dogs: Yes see note above
Can live with cats: Can do but will chase if they run
Current location: Northumberland
Things to be Aware of:
Ayesha suffers from allergies which is treated with a raw diet, and on occasion Apoquel. She still have outbreaks which will need to be managed.
Ayesha needs her tail pocket cleaning regularly as part of her cleaning routine and she isn't very keen, but this area can become sore if left. Her foster mum can advise how she manages this.
The Ideal Family:
Ayesha will make a smashing family pet where she will receive the love and attention that has been lacking in her life before she came to us.
She is very good with the children in her foster home whose ages range from 4 to 16, so dog savvy children would be fine, if not dog savvy, we would say children aged 7 years and over.
She loves the garden and likes nothing more than laying on grass when she is outside.
Other comments:
Ayesha came to us with a very poor body score as she had been starved a neglected.
Her foster family have treated her and nurtured her back to full health, and she is now ready for her new family. She is happy to be crated although she tends not to use it very much, but it was her safe place when she first came into foster.
Ayesha loves children, but she will walk over them for cuddles and it's for this reason alone that we have stipulated any children in the home to be 7 years and above if they are not used to dogs.
Ayesha is spayed, toilet trained and up to date with her vaccinations and wormer. She has had her cherry eye fixed and her fur is growing back on her body, so no further treatment is required.
She can be left for a maximum of 4 hours and her new home can be no further than 4 hours away from her current location.
The closest suitable homes will be given preference.
If you have any questions, please ask Lavina Bird. Ayesha's foster mum
Ayesha's adoption fee is £400 and will need to be paid in full prior to her going home which will also be subject to a home check.
*** As of April 2019, Geordie Bullies Springboard introduced a small charge to apply to adopt a dog from our charity. *** IF YOU HAVE ALREADY PAID, YOU WILL NOT HAVE TO PAY AGAIN FOR 12 MONTHS***
How will it work?
We will be charging £5.00 per year for membership to apply for a bulldog with the charity, this will also cover the cost of a home check if required.
This fee will cover you for one year from the date you apply, you do not pay per application.
For example, you apply for a dog and pay your £5.00 membership, you have a home check and are not successful for that dog, so you apply again for another dog a few months after, you will not pay another £5.00 assuming your situation is the same.
Please note, there is an exception to the above. If you pay your £5.00 and move within the year and require another home check before you have been successful, there will be a further £5.00 charge to cover volunteer expenses of carrying out a new home check.
Your responsibility as an applicant
When you are applying for a dog, you MUST make sure you meet the adoption criteria and you are 100% sure you are ready to open your heart and home to a rescue dog. Please pay attention to the requirements of the dog, in particular, consider the following.
• How far the dog can travel in relation to where you live.
• The suitability of the dog should you wish to add to your pack later. Does the dog you are applying to adopt like other dogs?
• Are there any restrictions with the age of children the dog can be rehomed with? If so, how does this match your family unit?
Prior to completing an application form, you will need to pay the £5.00 fee via PayPal.
Please put the name of the dog and your name as reference. E.g. Joe Bloggs (your name) / Bella (dogs name). Please make a note of your payment reference number. PLEASE also ensure you select friends and family to avoid fees for the charity, the fees are an extra 30p if you wish to pay goods and services so £5.30 instead of £5.00
When completing the adoption application form, you will be prompted to enter your PayPal reference number and date of payment. If this is not entered, we will not process your application.
Our email address for PayPal is gbspringboard@gmail.com
To apply, please complete the application form below
https://www.cognitoforms.com/GeordieBulliesSpringboard1/adoptionapplication
{"slide_to_show":"2","slide_to_scroll":"1","autoplay":"true","autoplay_speed":"3000","speed":"800","arrows":"true","dots":"true","loop":"true","centermode":"false"}