Barney -Sadly crossed the Rainbow Bridge!
Barney crossed the Rainbow Bridge 2018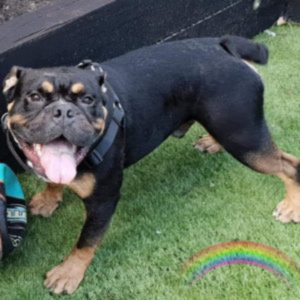 We are sad to bring you some devastating news regarding Barney. For those of you that remember his story, he was surrendered to our rescue by an elderly couple in September 2018 they had purchased him and quickly realised he was too much for them to handle, he was a lively bouncy boy and full of energy but they were worried about his behaviour whilst in the home but obviously played this down.
They purchased him from a lady who let him jump out of a window to go to the toilet, he had had no training whatsoever and was fearful of everything, this fear came out as aggression as time had gone on. While in foster, he was a fairly good boy and although he was a bouncing ball of energy, he showed no behaviours that concerned us, however this could be because there were no visitors in the home, he didn't travel in car, and he didn't meet any strangers.
He was rehomed with a family of older children but unfortunately, this is where he started to display behaviours that were concerning, he showed fear aggression and would lunge and bite anyone coming into the home, this became too much to handle, and Barney was returned to us last weekend. It's only on his return we realised what they were referring to.
He was going to a foster home but when they tried to get him in the car he lunged at the Foster's faces and was aggressive and growling. It was decided as they had a young child it wasn't going to work. He went into foster with Georgina Hand and her husband, and he seemed to settle ok. However, yesterday things took a worrying turn, and we became extremely concerned about the welfare of our foster. Lou M Powell visited Georgina and on arrival, Barney lunged at Lou while she was standing up catching her face resulting in a bruised cheek. Lou stayed in the house a little while and on leaving, while Lou was at ground level with Barney, he turned on her again without any warning and showed severe aggression, the quick thinking and actions of Georgina prevented the incident from being potentially catastrophic. This obviously caused us huge concerns. Meanwhile, Barney appeared to have hurt his leg, possibly while jumping so aggressively so Georgina took him to our vet Josh this morning to discuss everything.
When they arrived at the vet Barney went into attack mode and tried in the vet's own words ' to rip his throat out 'Barney displayed severe aggression and wanted to attack Josh, so Josh phoned Helen Edwards to discuss his behaviour and to say that he wouldn't examine him as he was too dangerous.
After much discussion with our vet, Josh advised Helen that in his opinion Barney was a dangerous dog and a risk to others and it was only a matter of when, not if he would bite a human, and as his licence requires him to give an honest opinion, he advised that Barney be PTS.
As a responsible rescue, we have a duty of care and legal responsibility to our dogs and the public, we cannot risk the safety of others and to do so is unethical and dangerous. Therefore, we were left with no option but to put Barney at peace. We are truly heartbroken, we never wanted this for him but the ramifications of him biting someone either now or later are a heavy burden and one we can't risk because where would we rehome him? And to who? We know we have done the right thing, he was so anxious he would shake and lick his lips continuously. He's now free from whatever torment was going on in his mind and we hope he is in a happier place. Thank you to Georgina and Ray for being there for him and Georgina for being with Barney at the end.
You were failed in life by the people who brought you into this world, and all you knew was fear. We know this didn't happen because you were loved and cared for because if loved could have cured you would have lived forever.
Rest in peace sweet Barney we are so sorry we couldn't help you.
Run free at rainbow bridge xxx
{"slide_to_show":"3","slide_to_scroll":"1","autoplay":"true","autoplay_speed":"3000","speed":"800","arrows":"true","dots":"false","loop":"true","centermode":"false"}