Boo is an energetic and playful young girl. She lives for her toys and will take them to bed every night and bring them back out during the day.
She really enjoys all human contact and gets very excitable and bouncy with rough play. She understands commands and enjoys her walks. She is non-reactive to dogs outside the home but she prefers to be the only dog in the house.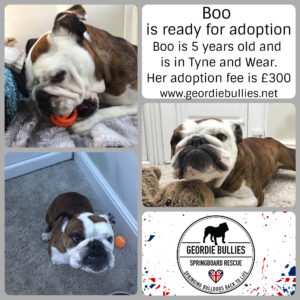 Dogs name:  Boo
Age:  5
Can live with children:  Yes
Can live with dogs:  No
Can live with cats:  No
Current location:  Tyne & Wear
Things to be aware of: 
Boo can be a bit possessive over her toys, but she has started to relax and trust her foster family and this behaviour is changing gradually. She needs firm boundaries and responds well to routine
The ideal home: 
Boo has enjoyed being in a quiet home. She is easily excitable so children would need to be mindful of that and also that she likes her own toys and she wants her own space on occasions.
Boo loves her walks so she needs an active home
Other comments: 
Boo is a very sweet and well-mannered girl. She finds comfort in her crate and will take herself off with a toy. She will be a lovely addition to any dog free family.
Boo is spayed, is toilet trained and can be left for up to 4 hours at any one time. She travels well so we will consider a new home for up to 4 hours from her current location in Tyne & Wear
If you have any questions, please ask Michelle Cathcart, foster mum to Boo
Boo's adoption fee is £300 and will need to be paid in full prior to Boo going home which will also be subject to a home check.
?? PLEASE READ CAREFULLY BEFORE APPLYING ??

1. Have you read the adoption criteria in full?  You must meet ALL dog's criteria.
2. COMPLETE APPLICATION form and pay your £5 subscription
3. PAYMENT REFERENCE must on the application form to cross reference.
4. PAYMENT METHOD : pay via PayPal www.paypal.me/gbspringboard or
Bank transfer Sort : 09.01.28 Acc : 92014344.

?? UNLESS WE SEE PROOF YOU HAVE PAID; WE CANNOT PROCESS YOUR APPLICATION ??.

£5 per year allows you to apply for as many dogs as you wish should you not be suitable on your first Application.
To apply, please complete the application form below

https://www.cognitoforms.com/GeordieBulliesSpringboard1/adoptionapplication