Dai & Dolly – Now Adopted
This absolutely adorable pair have made such an impression on their foster family. Dolly is described as sweet and extremely loving whereas Dai is completely different and is bouncy and clumsy. His fosters call him a complete dollop!

Both Dolly and Dai wear harnesses when going for a walk. Dai gets really excited when he sees his but Dolly likes to play dead and roll on her back! Both walk well as part of a pack and also just as a pair. Dolly is more of a plodder whereas Dai is more inquisitive. Both are unreactive to dogs when out and about.

Dolly and Dai have lived as part of a large pack of bulldogs in foster and have no issue with any of them.
Dolly and Dai haven't been off the lead while out and about so recall will need training but both answer to their names when called in the garden.

Both dogs can sit,wait and leave though Dai becomes excited when he's told he's a good boy and forgets his training completely! You also may need to repeat as with all bulldogs they have selective hearing!
Both Dolly and Dai love playing with toys and show no possessiveness, their favourites are tug toys!

Dolly and Dai don't mind being pampered and cleaned though dolly will initially play dead and Dai tries to make a game of it!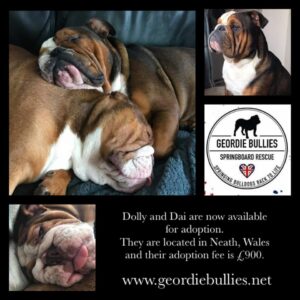 Dogs name: Dolly and Dai

Age: 1 year old

Can live with children: Yes

Can live with dogs: Yes

Can live with cats: Untested

Current location: Neath, Wales

Things to be aware of:

This adorable young pair have so much love to give but need continued boundaries and training. They have loved the routine they have in their foster home.

Dolly was initially a little shy when she went to her foster home but she settled quickly and soon came out of her shell.

Dolly and Dai enjoy rough play but Dai can forget he has teeth so awareness must be shown.

Neither dog shows any food aggression at all but Dolly can be greedy and pinch Dai's food if not supervised!

Dai can be cheeky and carry things around, such as his bed or a water spray. He will leave when told to. He can also reach things on the work surface so please take note!

Dolly and Dai have both had cherry eye operations but have no further issues. They are likely to need lubricating eye drops going forward at a minimal cost.

The ideal home:

Dolly and Dai would thrive in a home where they are not left too long in the day. They will require continued training and firm boundaries setting by their forever family.

Dolly is very chilled but Dai is a big boy and can get over excited and clumsy, so with this in mind we are rehoming them with dog savvy children.

olly and Dai have lived with several dogs in their foster home and can be homed with other dogs. Any male dogs must be neutered due to Dolly being unspayed.

Both Dolly and Dai adore cuddles and will make a welcome addition to any family!

Other comments:

This gorgeous pair have been a pleasure in foster. They have used crates in foster and sleep well in them overnight.

Dai is neutered but Dolly is unspayed. We will arrange for her spay and pay for this. It will be a condition of the adoption contract that this is completed by the new owner at a vet of our choice.

Dolly and Dai are toilet trained and travel well, we will consider a new home for them up to 4 hours from their current location in Neath in Wales.

If you have any questions, please ask Tracy Barrett foster mum to Dolly and Dai.

Dolly and Dai's adoption fee is £800 and will need to be paid in full prior to going home which will also be subject to a home check.


PLEASE READ CAREFULLY BEFORE APPLYING


1. Have you read the adoption criteria in full? You must meet ALL dog's criteria.
2. COMPLETE APPLICATION form and pay your £5 subscription
3. PAYMENT REFERENCE must on the application form to cross reference.
4. PAYMENT METHOD : pay via PayPal www.paypal.me/gbspringboard or
Bank transfer Sort : 09.01.28 Acc : 92014344.


UNLESS WE SEE PROOF YOU HAVE PAID; WE CANNOT PROCESS YOUR APPLICATION
.

£5 per year allows you to apply for as many dogs as you wish should you not be suitable on your first Application.
To apply, please complete the application form below

https://www.cognitoforms.com/GeordieB…/adoptionapplication
{"slide_to_show":"3","slide_to_scroll":"1","autoplay":"true","autoplay_speed":"3000","speed":"800","arrows":"true","dots":"false","loop":"true","centermode":"false"}