Dave – Sadly crossed the Rainbow Bridge!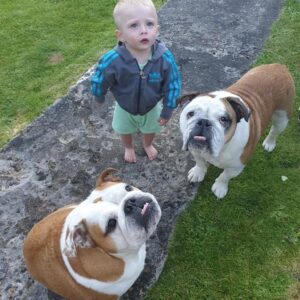 It is with the greatest sadness and the heaviest of hearts that we have to announce that gorgeous Dave passed over rainbow bridge.
Sadly, there was very little warning of his illness and it was found that Dave had a fast acting cancer that had bled into his abdomen. There was absolutely nothing that could be done and his heartbroken mummy and daddy, Jayne May and Scott Anderson were there when he slipped away peacefully in their arms.
Dave became a GBSR boy in February 2019 and was fostered by Jayne,Scott and their son Astyn. He fitted into their lives so well and loved his fur sister Maisie so much that he eventually decided to adopt them and make them his own.
Dave was well renowned for his love of puppy beds, duvets and loved cuddling up to Scott in bed so much. He also adored his little skin bro completely and he and Maisie acted as his protectors, often to be found snoring nearby.
We can't imagine the pain Dave's family feel and we know he will always live on in their hearts. He was loved so completely, and he knew that.
Please join us as we send our heartfelt sympathies to Dave's family.
Rest In Peace little Man and remember to play hard. Meet your family at Rainbow bridge x
A little of Dave's story below,
Dave has decided he wanted to stay put, after a very long foster and getting him to a point of being healthy enough to re-home, Jayne May asked if he could stay. We agreed it would be the best outcome for him as he's settled in so well and moving him would unsettle him too much after so long in foster. So that leaves me to say, congratulations to you both we are so happy for you all. Huge thank you for everything you have done for Dave and you continue to do for the charity, you're a huge asset to keeping those wheels turning.
Good luck Dave your new life starts here.
Dave is a 4 year old neutered male, he's originally from South Africa. We were asked to take Dave as his owner's had increased working hours and they felt Dave wasn't getting what he loves most .. company.
Dave is a lovely laid back boy and he's settled in lovely with Jayne May and her family after she collected him today. His eyes are a little sore but we can have a look at his health check on Monday with our vet to get them sorted out.
Welcome to GB Dave your Springboard journey starts here.
{"slide_to_show":"2","slide_to_scroll":"1","autoplay":"true","autoplay_speed":"3000","speed":"800","arrows":"true","dots":"true","loop":"true","centermode":"false"}