** CORONA VIRUS ** Please note we cannot accept applications or expressions of interest in any of our dogs until the Lockdown has been relaxed – Thank you for your understanding **
Joey is a lovely well-mannered and very well-behaved boy. He likes a stroke and loves his chew toys.
He walks well on the lead but isn't keen on dogs running up to him. His recall outside the home hasn't been tested but he comes when called in the home.
Joey will sit and stay, and he waits to have his feet cleaned before coming into the home after being outside.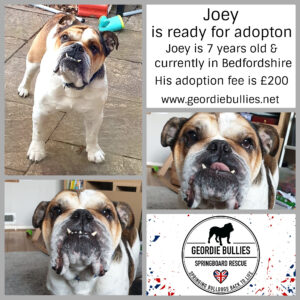 Dogs name:  Joey
Age:  7
Can live with children:  Yes
Can live with dogs:  Yes
Can live with cats:  Yes
Current location:  Bedfordshire
Things to be aware of: 
Joey isn't keen on having his ears cleaned but he has got better since he has been having them cleaned daily
The ideal home: 
Joey has lived with a young female dog before, so we are happy for him to be re-homed with a female dog for company, maybe an older equally laid-back dog like himself.
He is fine with the children in his foster home so we are happy for him to be re-homed where there are dog savvy children.
Other comments: 
Joey is a lovely calm and gentle little Bulldog who is looking for a loving home. He loves slices of apple and will give his paw and take the apple gently, he is very well mannered
We really want a loving home for this sweet boy where he will have attention and not be left for long periods.
Joey is in good health, toilet trained and neutered. He doesn't use a crate and can be left for up to four hours. He travels well so we will consider a new home for Joey up to 4 hours form his current location in Bedfordshire
If you have any questions, please ask Kelly Dixon foster mum to Joey
Joey's adoption fee is £200 and will need to be paid in full prior to him going home which will also be subject to a home check
🚨🚨 PLEASE READ CAREFULLY BEFORE APPLYING 🚨🚨
1. Have you read the adoption criteria in full?  You must meet ALL dog's criteria.
2. COMPLETE APPLICATION form and pay your £5 subscription
3. PAYMENT REFERENCE must on the application form to cross reference.
4. PAYMENT METHOD : pay via PayPal www.paypal.me/gbspringboard or
Bank transfer Sort : 09.01.28 Acc : 92014344.
🚨🚨 UNLESS WE SEE PROOF YOU HAVE PAID; WE CANNOT PROCESS YOUR APPLICATION 🚨🚨.
£5 per year allows you to apply for as many dogs as you wish should you not be suitable on your first Application.
To apply, please complete the application form below
https://www.cognitoforms.com/GeordieBulliesSpringboard1/adoptionapplication