My name is Maggie and no-one has applied to be my new mummy or daddy …. not one person??
I can live with children & even cats..!! But l need to be the only dog because really l want aaalll the attention for myself.
Please read about me… l will love you back masses if you love me …lots of 'Maggie Kisses' coming your way xxxx????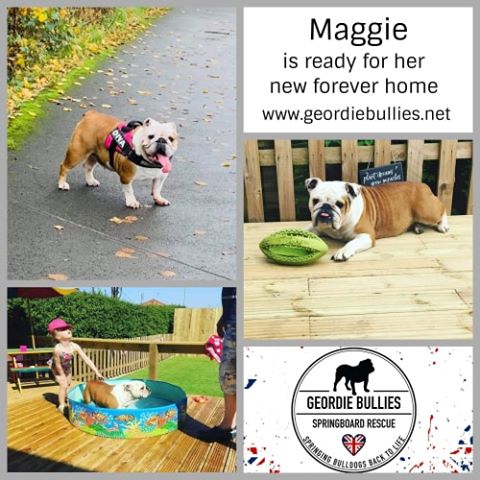 Dogs Name: Maggie
Age: 7
Can live with children: Yes
Can live with dogs: No
Can live with cats: Yes
Current location: Midlands
Personality:
Maggie is a lovely girl who enjoys snuggles and fuss. She is playful and loves to play with a ball & tug of war. She is a typical Bulldog who can turn a deaf ear when asked to do something but generally will do it once told again. She will sit for treats and enjoys her walks and lazing in the sun.
Things to be Aware of:
Maggie needs to be kept on a specific hypoallergenic food which is freely available, and we will advise you on this. She needs a daily cleaning routine around her face and ears which she loves.
The Ideal Family:
Maggie loves the company of adults and children so the ideal family is one where she would have company for most of the day. She doesn't like sharing her humans with other dogs, cats are ok, so she will need to be the only dog.
Other comments:
Maggie was adopted by her foster family 6 months ago, but she has taken a dislike to the resident dog and whilst her family have tried to overcome the difficulties, both dogs are unhappy. So sadly, they have made the heart-breaking decision to rehome Maggie as an only dog. She's spayed and up to date with vaccination's, and has no current health issues
Maggie will stay with her family while we look for a new home for her.
She is ok left on her own for up to 4 hours and she is a good traveller so we will consider a new home up to 4 hours from her current location.
If you have any questions, please ask Maggie's foster, Jayde Wright
Maggie's adoption fee is £200 and will need to be paid in full prior to her going home which will also be subject to a home check.
*** As of April 2019, Geordie Bullies Springboard introduced a small charge to apply to adopt a dog from our charity. *** IF YOU HAVE ALREADY PAID, YOU WILL NOT HAVE TO PAY AGAIN FOR 12 MONTHS***

We will be charging £5.00 per year for membership to apply for a bulldog with the charity, this will also cover the cost of a home check if required. 
This fee will cover you for one year from the date you apply, you do not pay per application. 
For example, you apply for a dog and pay your £5.00 membership, you have a home check and are not successful for that dog, so you apply again for another dog a few months after, you will not pay another £5.00 assuming your situation is the same.
Please note, there is an exception to the above. If you pay your £5.00 and move within the year and require another home check before you have been successful, there will be a further £5.00 charge to cover volunteer expenses of carrying out a new home check.
Your responsibility as an applicant
When you are applying for a dog, you MUST make sure you meet the adoption criteria and you are 100% sure you are ready to open your heart and home to a rescue dog. Please pay attention to the requirements of the dog, in particular, consider the following. 
• How far the dog can travel in relation to where you live.
• The suitability of the dog should you wish to add to your pack later. Does the dog you are applying to adopt like other dogs? 
• Are there any restrictions with the age of children the dog can be rehomed with? If so, how does this match your family unit?
Prior to completing an application form, you will need to pay the £5.00 fee via PayPal. 
Please put the name of the dog and your name as reference. E.g. Joe Bloggs (your name) / Bella (dogs name). Please make a note of your payment reference number. PLEASE also ensure you select friends and family to avoid fees for the charity, the fees are an extra 30p if you wish to pay goods and services so £5.30 instead of £5.00
When completing the adoption application form, you will be prompted to enter your PayPal reference number and date of payment. If this is not entered, we will not process your application. 
Our email address for PayPal is gbspringboard@gmail.com
To apply, please complete the application form below
https://www.cognitoforms.com/GeordieBul…/adoptionapplication
{"slide_to_show":"3","slide_to_scroll":"1","autoplay":"true","autoplay_speed":"3000","speed":"800","arrows":"true","dots":"false","loop":"true","centermode":"false"}