Petal – Ready for Adoption!- South East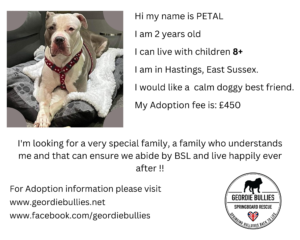 Dogs name:
Petal
Age:
2years old.
Current location:
Hastings, East Sussex.
I CAN LIVE WITH
Children:
Older breed savvy children 8+.
Cats:
No.
Dogs:
Laid back and calm dogs.
A BIT ABOUT ME
Personality:
Petal is a gentle giant, she is everything you could ask for in an XL bully type dog.
Sweet and affectionate with a gentle soul.
Petal may present as excitable and anxious in the home but quickly shows her true nature as a cuddly snore machine, who will spend her day happily snoozing at your feet.
Behaviour:
Petal didn't have the best start to life and found herself a stray. Sadly, this has left her with separation anxiety.
Petal can be vocal "growly" and "mouth" in play, she holds absolutely no malice whatsoever.
Because of BSL and to protect Petal any children in the home must be supervised, as she is an big girl and has the potential to jump and knock children over.
Children must understand that dogs need time to settle in and have space to rest peacefully and uninterrupted. And they must never attempt to take a toy from him.
Needs:
Petal needs an active family home, one preferably with someone home the majority of the day.
Any potential family must be prepared to continue training and be able to support her to overcome her separation anxiety.
A garden is a must for Petal, plenty of space for her to run and play.
A calm laid back dog will benefit Petal and keep her company when her humans cant.
Petals family must understand BSL, be prepared to attain a certificate of exemption by January 2024 and insure they comply with EVERY restriction.
Walk/exercise:
Petal loves a walk, she is excitable and bouncy and enjoys meeting new dogs on her travels.
Petal needs continued training in leash walking, Petal has done very well with muzzle training.
Petal MUST CONTINUE to wear a muzzle when out in public in line with BSL.
Petal MUST ALWAYS be walked on a short leash, in line with BSL.
Petal MUST NEVER be allowed to be off leash in public areas in line with BSL.
Toilet trained:
Petal is used to kennels and outdoor living, so will need a toileting routine as she settles. She has done very well in foster.
Can be left:
Petal struggles with separation anxiety and will cry when left which with time, patience and support she can overcome. Petal can currently be left for short periods of time.
Travel:
Petal travels very well, because of this we will accept applications of up to 4 hours away from her current location.
Things to be aware of:
Petal came into GBSR in season as such she will be rehomed on a "to be spayed" contract which will be undertaken at a vet of our choice with costs covered by the charity.
Petals new family MUST be prepared to apply for a certificate of exemption and ENSURE that they comply with each and every restriction. The charity are prepared to cover £92.40 fee for the exemption certificate.
Additional information:
Petal was abandoned and due to be put to sleep when GBSR found her, we couldn't leave her to her fate and knew our incredible supporters would help us find Petal her happily ever after. She is an incredible sweet natured and kind-hearted giant, who will hold the heart of anyone lucky enough to meet her. Petal will be the most wonderful blessing to any family lucky enough to adopt her.
Petal's adoption donation fee is £450 and will need to be paid in full prior to her going home which will also be subject to a home check.
**Every dog rehomed by GBSR receives Rescue Back-up for their whole Life. And the admin team are available for advice and support for the whole of that dog's lifetime via Messenger, therefore the successful applicant will need to have an active Facebook and Messenger account for the life of the dog. If you cannot agree to this, please don't apply**
🚨 PLEASE READ CAREFULLY BEFORE APPLYING 🚨
You MUST MEET ALL the dogs' criteria, have you read the adoption criteria in full?
COMPLETE APPLICATION FORM
PAY YOUR £5 SUBSCRIPTION – SEE NOTE BELOW*
PAYMENT REFERENCE must on the application form to cross reference. Mention if you have paid by Paypal or Bank Transfer if you are unable to provide a Transaction Number so we can check.
PAYMENT METHOD Via Enthuse using the link below.
https://geordiebullies.enthuse.com/donate
Note:
UNLESS WE SEE PROOF, YOU HAVE PAID; WE WILL NOT PROCESS YOUR APPLICATION AND YOU WILL NOT BE CONTACTED.
£5 per year allows you to apply for as many dogs as you wish over a 12-month period from your first application. Please mention if you have paid by PayPal or Bank Transfer on any previous applications so we can cross reference.
Below is the link to the Application Form.
https://www.cognitoforms.com/GeordieBulliesSpringboard1/adoptionapplication
A little of Petal's story below,
Please welcome Petal to our GBSR family!
As you will see Petal isn't an English Bulldog, but when there's a risk to life you have to step up and do the right thing don't you ?
Petal was being held at a vet after being handed in as a stray. The warden was contacted but with no rescue space and the imminent ban coming in for XL Bullies, it's making it near impossible for rescue centres to rehome them.
It's a sad fact that every bull breed is now struggling because of people dumping them.
We were contacted on Friday by the vet and Helen spent the next 3 days ringing around and asking every rescue known to man to take her.
This young girl has been used for breeding before being dumped, how many times have we seen this? Used, abused and discarded.
The breeder wasn't interested in taking her back so the vet reached out to us to see if we could help Petal or help them secure a rescue space for her.
We were time limited and if a solution couldn't be found, Petal's life would sadly end before it had truly started.
Dawn our foster mum to Bronson, saw Helen's pleas for rescue and offered to foster if GB would take her under their Wings.
We decided that we couldn't sit back we had to help her, we had managed to place a 10-week-old XL puppy with a rescue the day before when asked for help, but no one would take Petal.
Dawn has large breed experience, and she has thrown this sweet girl a lifeline for which we are very grateful. Dawn collected Petal today and she is totally loving being in a warm home with toys and a comfy bed… she can't sit still as she is so excited and it's a joy to see.
There are fundraisers happening for Petal. We are unsure if she is a typical American XL Bulldog and treatment will include her spay, ongoing support in foster and a DNA test to know her real heritage so that we can plan ahead ensuring she is safe and supported for whatever lies ahead for the breed.
If you would like to donate towards Petals care, here is how you can
Enthuse: https://geordiebullies.enthuse.com/donate
PayPal: gbspringboard@gmail.com -friends & family pls
Bank transfer:
Account Name: Geordiebullies springboard rescue
Sort: 09-01-28
Acc: 92014344
Please use the reference PETAL on your donations.
We would like to reiterate that we shall not be taking American Bulldogs going forward, this has been an exceptional situation and a one off – so please can we welcome Petal into the arms of her Springboard family.
So welcome to your GBSR UK journey beautiful lady, we can't wait to share it with you. 
Follow Petal https://www.facebook.com/geordiebullies
For more updates on all our dogs please join our community group
https://www.facebook.com/groups/1793138384086708/
{"slide_to_show":"3","slide_to_scroll":"1","autoplay":"true","autoplay_speed":"3000","speed":"800","arrows":"true","dots":"false","loop":"true","centermode":"false"}