Phoebe – Sadly over the Rainbow Bridge!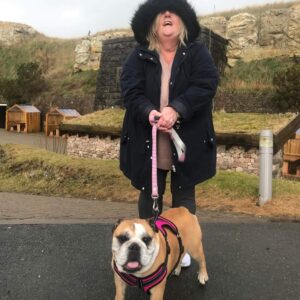 Sadly, we have to tell you that Phoebe has gone to Rainbow Bridge.
Phoebe was 8½ years old and had been living the life of a Princess with Anne since she was adopted in February this year.
For 7 months Phoebe has wanted for nothing.
In the hot summer she had her very 1st pool bought for her, and with a bit of encouragement, she went in, much to the delight of Anne.
She was very playful girl, and her real passion was chasing sticks, she loved that.
But sadly, the day came where she just laid down and with a contented sigh she went to sleep.
Anne is devastated, she loved her Princess Phoebe with all of her heart.
We want to thank you Anne, for making Phoebes twilight months so very beautiful and memorable.
We are heartbroken for you, Phoebe was a very special girl, and we are grateful you found each other if only for the briefest time.
Fly high Phoebe, chase sticks in the sunshine and wait for your Mumma at the Gates because one day she will return to find you, you were her most precious girl.
A little of Phoebe's story below,
Phoebe is Home
We are absolutely thrilled to announce that Phoebe has gone home.
She took no time at all training her new servants Anne and Dean.
Phoebe has been out exploring her new neighbourhood and found herself a nice big stick whilst out on a trip to the field.
So Phoebe now your forever adventures begin, have a wonderful life in your new home sweetheart and we look forward to seeing your new adventures unfold with your new Mum and Dad.
A massive thank you to our fantastic first-time fosters, Kirsty Law and David Mcculloch, you have been amazing, and we will be forever grateful to you.
Phoebe is your typical English Bulldog, she loves all human attention and is especially partial to an early morning tummy rub. She is very playful and loves her toys and has a box of her favourites that will be going with her to her new home.
Phoebe isn't an early riser, preferring a lay in most mornings and gets up at her leisure.
But when she gets up, she is ready for her walk which she really enjoys. She is fine outside on her walks and isn't overly bothered about meeting other dogs as her favourite game is retrieving her stick.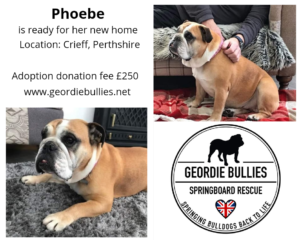 Dogs name: Phoebe
Age:  7 Years 8 months
Can live with children:  Dog savvy children
Can live with dogs: NO she needs to be the only dog

Can live with cats:  Untested
Current location:  Crieff, Perthshire
Personality: 
Things to be aware of:  Nothing
The ideal home: 
Phoebe loves being around people, so we are looking for a home for her where there is someone around for a good part of the day. She loves her walks so her new owners will need to commit to take her out at least once a day.
As Phoebe is an older girl, we feel any children in the home will need to dog savvy and be old enough to understand when she needs her own space. A young hectic home might be too stimulating for her as she is a 'peace and quiet' kind of girl.
Other comments: 
Phoebe really is a fabulous girl, and she will make the perfect companion to a loving home.
She travels ok so we will consider a new home for her up to 4 hours form her current location in Scotland.
{"slide_to_show":"3","slide_to_scroll":"1","autoplay":"true","autoplay_speed":"3000","speed":"800","arrows":"true","dots":"false","loop":"true","centermode":"false"}