Pudding is described by her foster family as a typical Puppy. She is cute and funny but also bitey and naughty!!
Pudding walks well on a harness and lead. She walks with a limp but runs like a demon. She is still a puppy so her joints are fragile so she will need to stick to the puppy walking rule of 5 minutes per month.
Pudding loves her food and is a growing girlie. She is on 3 meals a day and will try to steal other dogs and children's food!
Pudding is extremely intelligent and will be easy to train. She already sits for her food but struggles to wait before she inhales it!
Pudding loves playing like any puppy, especially with the other dogs in the home. She loves balls and squeaky toys!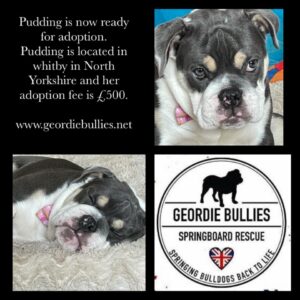 Dogs name: Pudding

Age: 4 months old

Spayed/ Neutered: No

Can live with children: Yes

Age of children : Dog Savvy

Can live with dogs: Yes requires a dog in the home for socialisation. (must be spayed or neutered)

Can live with cats: chases!

Current location: Whitby, North Yorkshire

How far can the dog travel from current location: 4 hours

Things to be aware of:

Pudding is an Old Tyme Bulldog and because of this consideration is required. Pudding will grow into a big girl and be incredibly strong. She also already has a very different nature to a English bulldog and can be relentless in her energy! Pudding will require a family who can instill rules and boundaries or she will grow to be unruly.
Pudding has a dislocated left leg. This has been investigated and attempted to be manipulated but nothing can be done. She will have a normal life with a slight limp but may develop some arthritis in that joint in the future and require pain relief.
Pudding is doing well with her toilet training but this still requires work going forward.

The ideal home:

Pudding requires a home with knowledge of the old tyme bulldog breed. She needs a family that will not pander to her cuteness and will continue with firm rules and boundaries as her foster family has.
Pudding will need another dog in the home to give her company and to assist with her training. She must be rehomed with a spayed or neutered dog as she will be entire.
Pudding is very bouncy and is already a big girl. She will need to be rehomed with dog savvy children who know how to calm her behaviour and assist with training.

Other comments:

Pudding is a typical puppy who requires rules and boundaries in the home. She has used a crate in foster to assist with toilet training.

As Pudding is being rehomed unspayed, we will arrange for her operation and pay for this. It will be a condition of the adoption contract that this is completed by the new owner at a vet of our choice.

Pudding is getting there with her toilet training but she does still need work! Pudding travels well, we will consider a new home for her up to 4 hours from her current location in Whitby, North Yorkshire.

If you have any questions, please ask Verity Carnie foster mum to Pudding.

Pudding's adoption fee is £500 and will need to be paid in full prior to going home which will also be subject to a home check.

 PLEASE READ CAREFULLY BEFORE APPLYING 

1. Have you read the adoption criteria in full? You must meet ALL dog's criteria.
2. COMPLETE APPLICATION form and pay your £5 subscription
3. PAYMENT REFERENCE must on the application form to cross reference.
4. PAYMENT METHOD : pay via PayPal www.paypal.me/gbspringboard or
Bank transfer Sort : 09.01.28 Acc : 92014344.

 UNLESS WE SEE PROOF YOU HAVE PAID; WE CANNOT PROCESS YOUR APPLICATION .

£5 per year allows you to apply for as many dogs as you wish should you not be suitable on your first Application.
To apply, please complete the application form below

https://www.cognitoforms.com/GeordieB…/adoptionapplication 
{"slide_to_show":"3","slide_to_scroll":"1","autoplay":"true","autoplay_speed":"3000","speed":"800","arrows":"true","dots":"false","loop":"true","centermode":"false"}