Queenie is a lovely young, playful dog. She is very gentle around the children in her foster home and she loves the fuss and cuddles she gets from them. She isn't a rough and tumble kind of girl, preferring to play ball in the garden and her antler chews.
She is a bright girl who follows the commands 'sit & down' and will learn more with some training.
Queenie is reactive to dogs and because of this she is walked with a Halti and Harness. She is controllable on her walks and Verity; Queenies foster mum can advise.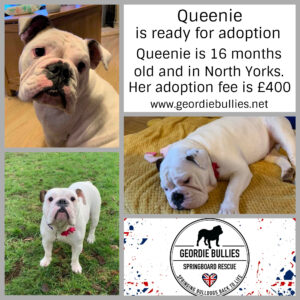 Dogs Name:  Queenie
Age:  15 months
Can live with children:  Yes
Can live with dogs:  No
Can live with cats:  Yes – will chase if they run
Current location:  North East Yorkshire
Things to be Aware of:
Queenie does not like other dogs so any new owner will need to be mindful that she cannot be around them.
Queenie is on a Raw Diet, which her foster mum can advise you on as she will need to remain on this
The Ideal Family:
Queenie has been brought up with children and she adores being around them so it would be lovely for her new home to be a family environment where she will be part of the family and get lots of attention. That said, she will be equally at home where there is someone around for most of the day.
She is a very loving family pet and will thrive with love and continued training.
Other comments:
Please don't let the fact that Queenie is reactive to other dogs put you off applying for her, in every other way she is a fantastic young girl who will continue to blossom with boundaries and training.
She can get anxious so she will need time to adjust in her new home and as part of her rehoming process, we feel it would be best if any potential adopters came to meet Queenie in her home.
Queenie is happy to use a crate and can be left for up to 4 hours. She can still have the odd accident, but she is 99% housetrained. Queenie is spayed and whilst quite a nervous traveller, she will be ok to travel up to 4 hours from her current location in North East Yorkshire.
If you have any questions, please ask Verity Carnie foster mum to Queenie
Queenie's adoption fee is £400 and will need to be paid in full prior to her going home which will also be subject to a home check.

?? PLEASE READ CAREFULLY BEFORE APPLYING ??

1. Have you read the adoption criteria in full?  You must meet ALL dog's criteria.
2. COMPLETE APPLICATION form and pay your £5 subscription
3. PAYMENT REFERENCE must on the application form to cross reference.
4. PAYMENT METHOD : pay via PayPal www.paypal.me/gbspringboard or
Bank transfer Sort : 09.01.28 Acc : 92014344.

?? UNLESS WE SEE PROOF YOU HAVE PAID; WE CANNOT PROCESS YOUR APPLICATION ??.

£5 per year allows you to apply for as many dogs as you wish should you not be suitable on your first Application.
To apply, please complete the application form below

https://www.cognitoforms.com/GeordieBulliesSpringboard1/adoptionapplication