Madison is a sweetheart of a dog. She really has enjoyed being part of a home where she get lots of fuss and she loves all human interaction. She isn't really interested in toys, but we don't think she has had them before. When she has had enough of the children, she will take herself off for a snooze.
She walks very well on her lead and understands simple commands and hand gestures when out walking. She has met other dogs on her walks and has not been bothered by them
Madison is fed twice a day and reminds her mum its feeding time with a little 'food dance', she really enjoys her food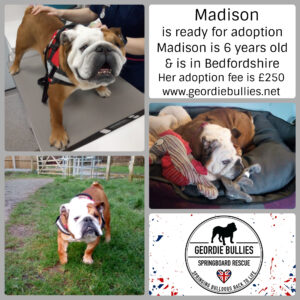 Dogs Name:  Madison
Age:  6 Years 9 months
Can live with children:  Yes
Can live with dogs:  Untested but probably
Can live with cats:  Untested but probably
Current location:  South East
Things to be Aware of:
Madison has a tight corkscrew tail which must be cleaned twice a day without fail. She came to us with a terribly infected tail pocket. The infection is much better but as the tail is so tight, this area must be cleaned and dried carefully, we can advise. Her ears have very bad scaring from untreated infections, and the vet think she is deaf in the leaf side (brown ear) so daily cleaning needed. Her front paws have cysts in between the toes which flare up and will need soaking, again we can advise.
The Ideal Family:
Madison will benefit from being placed in a family where she will not be left alone for long periods. She was previously left in a field on her own so she really enjoys being part of a family and being involved. Her foster mum feels she can live with another equally chilled out and relaxed dog and either with or without children.
Other comments:
Madison has been such a star in her foster home. She came to us in a poor state but with warmth love and good food, she is starting to blossom and learn what its like to be in a family environment.
He tail area will always need attention and she will happily let her foster mum clean and dry the ears with lots of encouragement and of course a little treat after.
Madison is spayed, toilet trained, can be left for up to 4 hours and can travel up to 4 hours from her foster home location in Bedfordshire.
If you have any questions, please ask Kelly Dixon, foster mum to Madison
Madison's adoption fee is £250 and will need to be paid in full prior to her going home which will also be subject to a home check
PLEASE READ CAREFULLY BEFORE APPLYING

1. Have you read the adoption criteria in full? You must meet ALL dog's criteria?
2. COMPLETE APPLICATION form and pay your £5 subscription
3 . PAYMENT REFERENCE must on the application form to cross reference.
4. PAYMENT METHOD : pay via PayPal www.paypal.me/gbspringboard or
Bank transfer Sort : 09.01.28 Acc : 92014344.

UNLESS WE SEE PROOF YOU HAVE PAID, WE CANNOT PROCESS YOUR APPLICATION .

£5 per year allows you to apply for as many dogs as you wish should you not be suitable on your first Application.
To apply, please complete the application form below
https://www.cognitoforms.com/GeordieBulliesSpringboard1/adoptionapplication