Buster is a very personable boy who enjoys human contact from both the adults and children in his foster home. He is a cheeky boy and will pinch your slippers and he get excited when he knows its time for his walk.
Buster walks back and forth to school every day and is very good on and off the lead and is fine with other dogs.
At home, is favourite toys are the chew type, so he has plenty of chew toys and if there is a patch of sunshine in a room, then that's where you will find him.
He plays well with the resident dog in the home and loves rough and tumble, but he recognises commands and will stop if the game gets too rough with a simple command.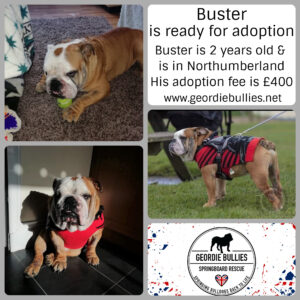 Dogs Name: Buster
Age:  2 years old
Can live with children:  Yes
Can live with dogs:  Yes
Can live with cats:  Yes
Current location:  Northumberland
Things to be Aware of:
Buster came to us with fur loss on the back of his neck. Sadly, because this hadn't been treated, the skin has thickened so whilst there is some fur growth, it will never come back fully, but it doesn't irritate or bother him. His foster mum rubs coconut oil over the bare skin to help keep it supple.
The Ideal Family:
Buster is a boy who loves being involved in family life and enjoys the hustle and bustle of children so we would love for him to be rehomed into a similar environment.
He can live with children but because he is a strong young boy, he would need to be supervised around very young children as he could knock into them.
His new owners will need to walk him at least twice a day as he enjoys this very much.
Buster has also loved the company of another dog so it would be nice for him to rehomed with a friendly companion.
Other comments:
Buster has really flourished in the care of his foster family. We have watched him interact and play and it's been a pleasure to see.
He has been neutered and he is house trained, can be left for up to 4 hours at any one time and does not need a crate.
Buster travels well so we will consider a new home for him up to 4 hours from his current location in Northumberland.
If you have any questions, please ask Zoe Ogilvie foster mum to Buster
Buster's adoption fee is £400 and will need to be paid in full prior to him going home which will also be subject to a home check.
?? PLEASE READ CAREFULLY BEFORE APPLYING ??
1. Have you read the adoption criteria in full?  You must meet ALL dog's criteria.
2. COMPLETE APPLICATION form and pay your £5 subscription
3. PAYMENT REFERENCE must on the application form to cross reference.
4. PAYMENT METHOD : pay via PayPal www.paypal.me/gbspringboard or
Bank transfer Sort : 09.01.28 Acc : 92014344.
?? UNLESS WE SEE PROOF YOU HAVE PAID; WE CANNOT PROCESS YOUR APPLICATION ??.
£5 per year allows you to apply for as many dogs as you wish should you not be suitable on your first Application.
To apply, please complete the application form below
https://www.cognitoforms.com/GeordieBulliesSpringboard1/adoptionapplication