Aimee is a very loving young Bulldog who loves having cuddles and strokes. She is playful and will play with the other dogs in the home with no aggression.
She enjoys her walks, but typically like many Bulldogs, she sometimes needs a bit of encouragement. But when she is out, she is good on her lead, doesn't pull and happy to be walked alone or as part of a pack.
She is walked on her lead as her recall needs more work, but she understands other commands such as sit and stay, when she wants to.
Aimee reacts well with dogs in and out of the home. She is playful and loves rough play, but she remains soft.
She can be a bit shy and nervous, but she is a very gentle girl who responds well to reassurance.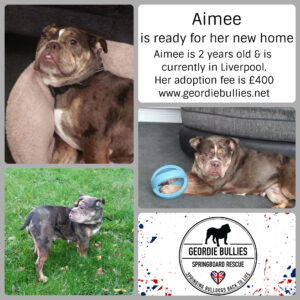 Dogs Name:  Aimee
Age:  2 Years
Can live with children:  Yes
Can live with dogs:  Yes
Can live with cats:  Untested
Current location:  Liverpool
Things to be Aware of:
Aimee might have the odd accident, but this isn't very often
The Ideal Family:
Aimee is such a lovely girl we feel she will settle equally well with or without children, but it would be nice for her to have some canine company with a friendly dog. She is a fit young girl who will benefit from regular walks so this needs to be continued.
She loves human interaction so we are looking for a home where the family will be around for the majority of the day.
Other comments:
Aimee has been a real joy to have in foster. She has learned toilet training, although she still has the odd accident and she has got on very well with the dogs in the home.
Aimee has been spayed and as she travels well, we will consider a new home up to 4 hours from her current location. She is happy to be left up to 4 hours so we will consider a new home where this is the maximum time she is left.
If you have any questions, please ask Paul Kristiansen, foster dad to Aimee
Aimee's adoption fee is £400 and will need to be paid in full prior to her going home which will also be subject to a home check.
?? PLEASE READ CAREFULLY BEFORE APPLYING ??
1. Have you read the adoption criteria in full?  You must meet ALL dog's criteria.
2. COMPLETE APPLICATION form and pay your £5 subscription
3. PAYMENT REFERENCE must on the application form to cross reference.
4. PAYMENT METHOD : pay via PayPal www.paypal.me/gbspringboard or
Bank transfer Sort : 09.01.28 Acc : 92014344.
?? UNLESS WE SEE PROOF YOU HAVE PAID; WE CANNOT PROCESS YOUR APPLICATION ??.
£5 per year allows you to apply for as many dogs as you wish should you not be suitable on your first Application.
To apply, please complete the application form below
https://www.cognitoforms.com/GeordieBulliesSpringboard1/adoptionapplication