Angel – Ready for Adoption-South East
Our Angel is such a wonderfully natured bulldog, a true man's best friend.
Angel isn't an overly playful girl much prefers to be cuddled and pampered with as much attention and affection possible.
Angel has loved meeting the family's children and adores them all, she can get a little excited and has potential to knock over any little ones, but she holds no malice.
She has enjoyed the company of the resident dog and enjoys walks and meeting new people and new dogs.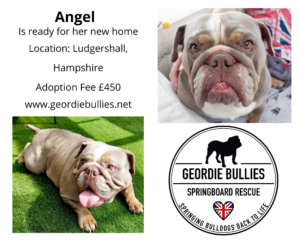 Dogs name:
Angel.
Age:
3 years old. 
Can live with children:
Yes, dog savvy.
Can live with dogs:
Yes.
Can live with cats:
No.
Current location:
Ludgershall, Hampshire. 
Things to be aware of:
Angel will be going home on a to be spayed contract, at a vet of the charities choosing and cost covered by the Charity.
Angel has a Umbilical Hernia, which will be repaired at the same time as her spay, costs covered by the charity.
Angel has Idiopathic head tremors which is something very common in the breed a calm voice and kind hand will help her feel safe while she is in tremor.
We are trialling her with CBD to see if this helps, and we will support and guide her new family.   
Angel is on the porkier side so is on a diet to bring her down to her ideal weight, if this hasn't been attained it must continue in her new home.
Any young children must be supervised as Angel has the potential to knock them over. 
The ideal home: 
Angel is suited to most home's she will adore a family with children to fuss her and take her along on their adventures.
Or a quieter life where she can spend her days having walks and being spoiled.
She will love a doggy companion to keep her company when her family can't.
Other comments:
Angel has been an absolute pleasure to have in foster. She really is the sweetest of girls and just takes life as it comes. She deserves a happily ever after.
Angel's adoption donation fee is £450 and will need to be paid in full prior to her going home which will also be subject to a home check.
**The successful applicant will need to have an active Facebook and Messenger account for the life of the dog. If you cannot agree to this, please don't apply**
🚨 PLEASE READ CAREFULLY BEFORE APPLYING 🚨
You MUST MEET ALL the dogs' criteria, have you read the adoption criteria in full?
COMPLETE APPLICATION FORM
PAY YOUR £5 SUBSCRIPTION – SEE NOTE BELOW*
PAYMENT REFERENCE must on the application form to cross reference. Mention if you have paid by Paypal or Bank Transfer if you are unable to provide a Transaction Number so we can check.
PAYMENT METHOD Via Enthuse using the link below.
https://geordiebullies.enthuse.com/donate
Note:
UNLESS WE SEE PROOF YOU HAVE PAID; WE WILL NOT PROCESS YOUR APPLICATION AND YOU WILL NOT BE CONTACTED.
£5 per year allows you to apply for as many dogs as you wish over a 12 month period from your first  application. Please mention if you have paid by Paypal or Bank Transfer on any previous applications so we can cross reference.Below is the link to the Application Form.
https://www.cognitoforms.com/GeordieBulliesSpringboard1/adoptionapplication
A little of Angel's story below,
Please say hello and welcome to Angel
Angel is a 3-year-old unspayed bitch.
One of our volunteers alerted us to a post where Angel was being sold. After contacting the lady, she agreed to surrender Angel to us to kept her safe.
Angel hasn't had the best start in life, she was rescued by her previous owner from a life of being left in the back garden and not being fed the lady paid for angel to keep her safe.
Unfortunately, after an accidental litter the lady felt she didn't have space to keep the 2 dogs separate as the male dog just kept wanting to get to Angel, so she made the decision to rehome angel.
She will be having a full check up at the vets and to be spayed. She does have some fur loss since her pregnancy, but it is growing back.
A massive thank you to Debbie who went to meet angel's owners to collect her and is fostering her in the midlands.
When she is ready for her forever home her adoption poster will be shared, so please keep your eyes peeled for more Angel updates.
Welcome to your GBSR Family Angel! We cannot wait to share the next chapter of your life with you.
Follow Angel https://www.facebook.com/geordiebullies/
{"slide_to_show":"3","slide_to_scroll":"1","autoplay":"true","autoplay_speed":"3000","speed":"800","arrows":"true","dots":"false","loop":"true","centermode":"false"}