Lily & Shadrack – Now Adopted!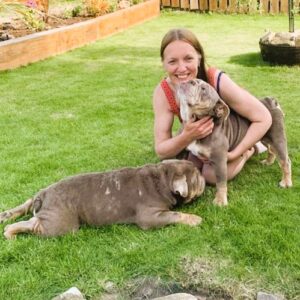 We have amazing news, Shads & Lily have gone home!
Shads & Lily have joined Caroline who previously adopted Skye and Jack. Sadly, they are both have since passed over the rainbow bridge and the house has been so quiet without the pitta-patter of bully paws.
Caroline always knew she would rehome another Bulldog (or 2) when the time was right so when she asked if she could adopt Shads & Lily we were delighted.
We know they will live their best lives with Caroline & her family, and we really could not have asked for a better home.
They have settled in, and it won't be long before Caroline is a complete 'Bully Slave' again as these two cast their spell.
We know there will be some disappointment but it's all about what's right for our dogs so we hope you will join us in congratulating Caroline on her new 'Bully Family' and we are already looking forward to following this gorgeous pair in their new life.
Thank you so much to Cat for being a fabulous foster mum, you have done a great job.
A little of Lily & Shadrack's story below 
Lily is a 4-year-old unspayed female and Shadrack is a 1.5 year old entire male.
We were contacted by their owner asking if we could take them in due to work commitments. Both dogs were being left most of the day and although the dogs were getting used to this their owner knew it wasn't fair to them so decided to rehome them.
Shadrack has come in with some meds for his back which looks like a bacterial infection. This will be being checked when he goes to the vets.
They will both be having a full check up at the vets. Lily is currently in season so won't be being spayed just yet but Shadrack will be being neutered.
Thank you to Cat who met the owner to collect these 2 and is fostering them in the North west.
When they are ready for their forever home their adoption Poster will be shared, so please keep your eyes peeled for more lily & Shadrack updates.
Welcome to your GBSR Family Lily & Shadrack! We cannot wait to share the next chapter of your life with you!
Follow Lily & Shadrack https://www.facebook.com/geordiebullies/
{"slide_to_show":"3","slide_to_scroll":"1","autoplay":"true","autoplay_speed":"3000","speed":"800","arrows":"true","dots":"false","loop":"true","centermode":"false"}