Angus is described by his foster family as typically stubborn, often resembles the energiser bunny, he loves walking and most of all he just adores his humans!  He can cry when you are preparing his dinner, just to ensure you are quick enough to give him his grub! 
Angus walks on a harness and lead and his foster family have no issues popping this on him or taking it off. He walks really nicely and listens to commands well. The only time he is known to pull is if he sees a leaf or two crossing his path, Angus loves a good leaf chase!!!
Angus walks really well on his own or with another dog. If Angus sees another dog out in public he generally wants to just have a sniff and then a good old bounce around!
Angus's recall is typically bulldog. He will come back when asked to but in his own time!!! He's not actually fully been off the lead but his fosters have used a training long lead. This will need further work and training by his forever family going forward.
Angus is a very clever boy and knows the following commands, sit, wait, no, bed and off. His foster family are currently trying to teach him paw and stay and this may need continued work from his forever family!!!
Angus is not possessive with toys at all, he loves balls and rope toys. He loves to play and is sure to let you know when it is playtime!
Angus loves rough play and loves nothing better than a good old game of tug of war! He also loves to be chased around.
Angus loves to be groomed and bathed! He allows you to clean his folds without any issue.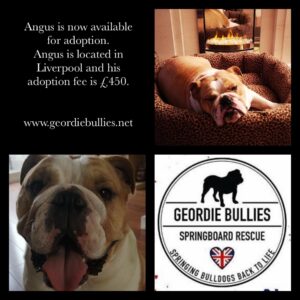 Dogs name: Angus
Age:  3 (4 in May)
Spayed/ Neutered: Yes
Can live with children: Yes
Age of children : Dog Savvy
Can live with dogs: Yes (Female no Males)
Can live with cats: Untested
Current location: Liverpool
How far can the dog travel from current location: 4 hours
Things to be aware of:  
Angus has lived with other dogs previously, he was happy with the company of a lady but didn't get on with males. Angus can therefore live with a female dog or on his own.
Angus has a thing about chasing leaves! His forever family would need awareness of this as he really needs ongoing training to leave.
Angus is overweight and for his health needs to lose around 5kg. He's already made a fabulous start with his foster family and is on a reduced amount of food with no treats or extras. He has also experienced doggy boot camp and has been out walking regularly with his foster family. This will all need to continue in His forever hone and his family must show a commitment to continuity.
Angus his a big boy and is strong, we feel that any children in the home will need to be dog savvy and have the ability to help with Angus's ongoing training.
The ideal home: 
Angus will make a truly fantastic addition to any family! He is not a morning dog and much prefers to sleep in until about 11am! He needs a family who will give him plenty of love and affection but also continue his diet regime to ensure he gets trim! He needs ongoing training and firm boundaries to ensure he continues to flourish!
As previously stated Angus does not get on with male dogs but he can be homed with a female dog or on his own.
Angus will need to be rehomed with dog savvy children so they can help with training and understand how to calm his behaviour when he gets excited.
Other comments:
Angus has been a pleasure in foster and will make a fantastic addition to any home. He doesn't use a crate but enjoys sleeping in a dog bed but he is occasionally known for sneaking on the sofa at night!!
Angus is toilet trained and travels well, we will consider a new home for him up to 4 hours from his current location in Liverpool.
If you have any questions, please ask Jackie Harmon foster mum to Angus.
Angus's adoption fee is £450  and will need to be paid in full prior to going home which will also be subject to a home check.
?? PLEASE READ CAREFULLY BEFORE APPLYING ??
Have you read the adoption criteria in full?  You must meet ALL dog's criteria. 
COMPLETE APPLICATION form and pay your £5 subscription 
PAYMENT REFERENCE must on the application form to cross reference. 
PAYMENT METHOD : pay via PayPal www.paypal.me/gbspringboard or
Bank transfer Sort : 09.01.28 Acc : 92014344. 
?? UNLESS WE SEE PROOF YOU HAVE PAID; WE CANNOT PROCESS YOUR APPLICATION ??. 
£5 per year allows you to apply for as many dogs as you wish should you not be suitable on your first Application.
To apply, please complete the application form below
https://www.cognitoforms.com/GeordieBulliesSpringboard1/adoptionapplication
{"slide_to_show":"3","slide_to_scroll":"1","autoplay":"true","autoplay_speed":"3000","speed":"800","arrows":"true","dots":"false","loop":"true","centermode":"false"}