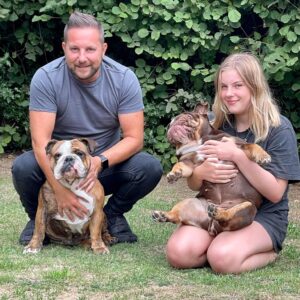 Baby is home!
We are super excited to tell you Baby is home
Some of you will be disappointed but we had to do what was best for this gorgeous girl
Baby has been in foster with our very own Helen Lerski and her clan since early June. Baby suffers with anxiety and Helen and her family understand Baby very well. Her and Muffin adopted have become very good partners in crime, with Baby growing more in confidence with the help of her new BBF So when Helen asked if her and her family could adopt Baby we were naturally very delighted.
Thank you so much to Helen, Marcus, Mia and Freddie for taking such good care of Baby whilst in foster. We know at times it hasn't been easy but you have been amazing with her, nursing her through all her different surgeries and phantom pregnancy and we really couldn't have asked for more.
Massive congratulations to you all on your little laundry thief and to Baby have the most wonderful life full of happiness and joy with your stepsister Muffin adopted, big step bro Bear and your forever family.
We cannot wait to share all your new adventures with you x
A little of Baby's story below,
Baby is a lovely little girl who has benefited from being in a pack in her foster home. She is loving and cuddly and likes to be near her humans as much as she can. Baby is playful, she loves tug of war and playing fetch, she is obedient and understands commands well.
Baby prefers to walk with another dog, and she walks well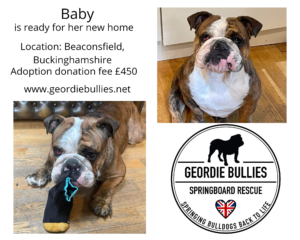 Dogs name: Baby
Age:  1 year 5 months
Can live with children: Yes, aged 5 years and above
Can live with dogs: Yes
Can live with cats:  Untested
Current location:  Beaconsfield, Buckinghamshire
Things to be aware of:
Baby tends to have some separation anxiety but living with other dogs has really helped with this.
She has had her cherry eye glands removed so she must have eye drops every day to keep her eyes lubricated and healthy.
Baby has a long palate; therefore, she can't walk for long periods, and she has aspirated previously so her new owners need to be aware that she might do this again.
Baby is a laundry thief. Since she had a phantom pregnancy in foster, Baby has become obsessed with laundry and wash cloths and will try and will jump up to steal it from your hands. Her foster mum is working on this, but it is a work in progress and she will try and snatch items you are holding.
The ideal home: 
Ideally Baby will be rehomed to a family where there is another friendly dog as other dogs give her confidence and where she isn't left for long periods.
She is great around the children in the home but because she will grab at soft toys, we feel resident children need to be aged 5 years and over and any visiting young children need to be supervised.
She will need a garden to play in as she can't go out for long walks, 15 minutes once or twice a day will be enough for her.
Other comments: 
Baby is a gentle girl that just wants to please, she has thrived being with other dogs so ideally, she will be rehomed with another dog that is used to sharing its home with other dogs.
Because of her long palate, Baby hasn't been walked for any real length of time as she becomes raspy so it's important that she has a garden to play in and then she come in a rest if she needs to.
She will need lubricating eye drops for life to keep her eyes healthy and she is fine having these administered.
She has been a delight in foster for her mum Helen, and she will make a fabulous family pet.
{"slide_to_show":"3","slide_to_scroll":"1","autoplay":"true","autoplay_speed":"3000","speed":"800","arrows":"true","dots":"false","loop":"true","centermode":"false"}