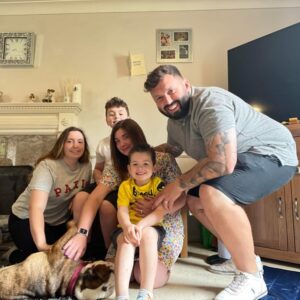 Sky is home!
We are absolutely delighted to bring you news that Sky has gone home!
She has joined Lucy and Carl and gained a new BFF in Bentley, the cat. Sky and Bentley hit it off straight away and we knew it wouldn't be long before they were partners in crime and playing fetch with each other.
Sky settled well and took no time in training Lucy and Carl and making sure they are firmly under the paw.
Please join us in congratulating Lucy & Carl on your beautiful Sky, we wish you the happiest of lives together as a family.
To Sky be the good girl you are we cannot wait to see your updates and next chapter of your happily ever after.
We want to say a huge thank you to Bev Thomas and Paul who have done yet another fabulous job preparing Sky for her new home, we are extremely grateful to you both. Thank you so much.
A little of Sky's story below,
Sky Came into GBSR care alongside Marmalade her mum. Sky came into GBSR she had terrible double cherry eye severely effecting her sight. So severe that repocketing the prolapsed tear ducts wasn't an option, and she had to have both removed. 
Sky went from strength to strength and stole the hearts of many of us at GBSR and many of our supporters. 
Sky is a lovely and living little girl who enjoys human company and attention. She is playful and active and enjoys her walks. She will generally meet other dogs, have a sniff and walk on.
She lives with Bonnie, a GBSR girl, and whilst they get on 99% of the time, there can be issues over toys so if Sky is rehomed with another dog, that dog would need to be laid back and not toy possessive.
Sky loves having a groom and will happily let you wash her face etc.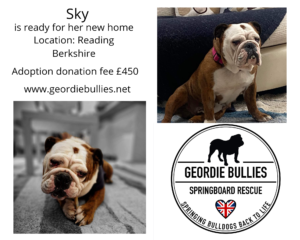 Dogs name: Sky
Age:  3 Years 5 months
Can live with children: Yes
Can live with dogs: Yes, see comments
Can live with cats:  Untested
Current location:  Reading, Berkshire
Things to be aware of: 
Sky has had bilateral cherry eye gland removal and as such she will need eye drops given twice a day to maintain lubrication,
Strangely Sky can be fearful at mealtimes. She will sometimes eat out of a bowl but prefers to eat off a mat on the floor.
The ideal home: 
Sky will need a home with a garden for her to mooch about in and where she will be taken on a nice walk at least once a day. She can live with a very laid-back dog who is happy to accept another dog into the home, but equally will be happy as the only dog on the home where she can have her treats and toys with no anxiety.
Sky has been around a 4 month old baby in her foster home and has had no reaction to baby noises but obviously it will be the families responsibility to make sure any young children would always be supervised.
Other comments: 
Sky is a well behaved little English Bulldog who loves being around people. She chats back to the neighbour's dog if it barks, tells the garden mower off and she will steal your plastic flower pots..!!. She is small and she isn't keen on being walked where there is traffic, but she is getting better, and her foster mum avoids heavy traffic situations. She is growing in confidence daily and will make a lovely family pet.
Sky is crate trained, spayed and she travels well in the car.
Follow Sky https://www.facebook.com/geordiebullies/
{"slide_to_show":"3","slide_to_scroll":"1","autoplay":"true","autoplay_speed":"3000","speed":"800","arrows":"true","dots":"false","loop":"true","centermode":"false"}