Blues foster family says he is a really lovely boy who just thrives on human affection. He especially loves being brushed and preened! Blue is a very big boy who does have issues with dog aggression. Blues foster mum has learned to manage this well but it needs continued work and patience to help him overcome this issue.
Blue wears a harness and we feel he would benefit from a training lead to help maintain control when he sees other dogs. Blue walks well and will walk to heel if you shorten his lead.
Blue is a clever boy and responds to several commands such as, sit, paw, down, wait, come and walkies! Blue will also leave if he is instructed to in the home. He is more difficult to command when outside due to his dog aggression and this requires work.
Blue is not really very bothered about toys, he will happily have a game of rough and tumble. He does get very excited but will still respond well to commands.
Blue is happy to be bathed and loves to be brushed. In typical bully style he isn't that fond of being wiped but will tolerate it it he has to!!!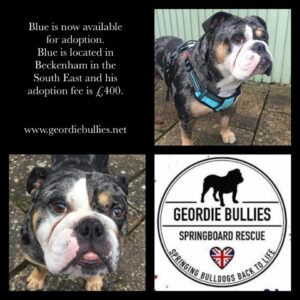 Dogs name: Blue
Age: 4
Spayed/ Neutered: Yes
Can live with children: Yes
Age of children : 8 plus
Can live with dogs: No
Can live with cats: No
Current location: Beckenham in the South East
How far can the dog travel from current location: 4 hours
Things to be aware of:  
Blue was gifted to the rescue due to his dog aggression, he will bark loudly and lunge if he sees dogs. He will need to be the only dog in the home and continued work is needed on his behaviour while out on walks.
Blue will need firm rules and boundaries in his home so he can understand where he is placed in the pack. He will require a strong experienced leader who can continue his foster mums work with his training.
Blue is not a fan of a noisy home so he will be therefore better placed to live with slightly older children aged 8 or over. At this age a child will have the understanding of blues needs and can help with his training in the home.
The ideal home: 
Blue will need a family who have the time to spend with him. They need to be committed to helping him overcome his dog aggression and give firm rules and boundaries going forward. He would be best placed in a rural location so there are minimal dogs when out on a walk to reduce his stress.
Once Blue builds his trust in you he will be your loyal companion for life.
As previously mentioned Blue will need to be an only dog in the home with no small furries either. He needs his humans all to himself!
Blues will need to be homed with children no younger than 8 years old. This ensures they are able to manage his behaviour and assist with training.
Other comments:
Blue is such a lovely boy and with the right family, who can offer him time and patience with his training, we are certain he will continue to flourish. Blue doesn't use a crate and doesn't really like them due to his past history of being used as a breeding dog. He is happy to sleep in a bed.
Blue is toilet trained and travels well, we will consider a new home for him up to 4 hours from his current location in Beckenham in the South East.
If you have any questions, please ask Tina Conlon foster mum to Blue
Blue's adoption fee is £400 and will need to be paid in full prior to going home which will also be subject to a home check.
?? PLEASE READ CAREFULLY BEFORE APPLYING ??
Have you read the adoption criteria in full?  You must meet ALL dog's criteria. 
COMPLETE APPLICATION form and pay your £5 subscription 
PAYMENT REFERENCE must on the application form to cross reference. 
PAYMENT METHOD : pay via PayPal www.paypal.me/gbspringboard or
Bank transfer Sort : 09.01.28 Acc : 92014344. 
?? UNLESS WE SEE PROOF YOU HAVE PAID; WE CANNOT PROCESS YOUR APPLICATION ??. 
£5 per year allows you to apply for as many dogs as you wish should you not be suitable on your first Application.
To apply, please complete the application form below
https://www.cognitoforms.com/GeordieBulliesSpringboard1/adoptionapplication
{"slide_to_show":"3","slide_to_scroll":"1","autoplay":"true","autoplay_speed":"3000","speed":"800","arrows":"true","dots":"false","loop":"true","centermode":"false"}