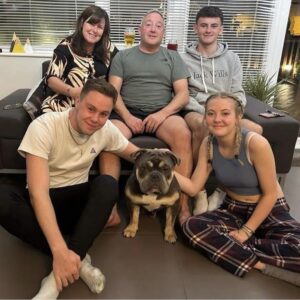 Blue is home!
We are absolutely thrilled to announce that Blue has gone home and is now busy training his new servants Jack, Samantha, and family.
Blue was collected Wednesday evening and has been busy exploring his new home.
We would like to say a massive thank you to Kate on another fantastic foster.
Thank you for all your hard work in preparing Blue for his new family, we are forever grateful as always.
Please join us in congratulating Jack and Samantha on their gorgeous new boy Blue.
We wish you all a lifetime of happiness together.
To Blue, Happy forever home darling boy, we look forward to seeing all your future adventures.
Previous Adoption Statement below,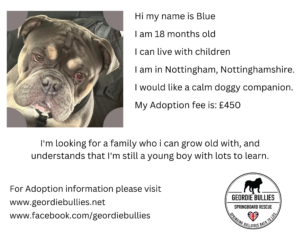 Dogs name: Blue
Age: 18 Months Old.
Current location: Nottingham, Midlands.
I CAN LIVE WITH
Children: Yes, dog savvy.
Cats: Untested.
Dogs: Yes.
A BIT ABOUT ME
Personality:
Blue has the most wonderful temperament; he is sweet and loving as well as cheeky with a little hint of stubborn thrown in for good measure.
Blue is an affectionate young boy, he's not a huge hugger but loves a good tummy rub and giving you the best bully kisses.
He is playful with his humans and resident dogs and will happily initiate play with dogs and humans. And will join in, in rough play when initiated by his human.
Behaviour:
Blue is very much a young male bulldog; he can be energetic at times but also true to breed as a stubborn and lazy bulldog.
As a young boy he can be excitable and boisterous at times but is responding well to command training.
He may try to dominate in play but will back down and be submissive when told by another dog.
Needs:
Blue is a well-rounded bulldog who can adapt to the majority of homes.
He needs an active family who can continue his training and give him plenty of exercise and stimulation.
He will do well with slightly older doggy companions to teach him the ropes.
Walk/exercise:
Blue walks very well, can slightly pull sometimes but still learning.
He currently walks for 30min once a day, his stamina can be worked on.
Wants to meet all dogs, no aggression, may pull towards dogs but will move on either once he has met them or he has been guided otherwise.
Blue walks well on his own or with others and he is happy to follow the pack.
He wears both a collar and harness. Slight difficulty is putting it on him as he is excited for a walk.
Toilet trained:
Yes, Blue is a good boy.
Can be left:
He is relaxed, he has an open crate and play pen. Will happily wait and will not soil or chew. Can be left for 4 hours.
Travel:
Blue travels very well on the back seat using a seatbelt restraint, he may get a little excited and pant but soon settles down.
Because of this we will accept applications of up to four hours away from his current location.
Things to be aware of:
Blue has recently undergone cherry eye surgery and has healed wonderfully. He had previously had them repocketed, but this failed so we had to have them removed. His eyes need no further treatment but will need monitoring for dry eye.
Any children in the home must be supervised, as Blue can be boisterous and has the potential to knock smaller children over.
Children must understand that bulldogs need time to settle in and have space to rest peacefully and uninterrupted.
Additional information:
If you are looking for a young dog to grow with your family than Blue is your boy.
Blue has shown to be an amazing young boy, so full of love and affection.
He will be an incredible addition to any family.
A little of Blues story below,
Please can we welcome Blue to the GBSR family
This lovely 16-month-old boy is a very sad surrender.
His original owner recently had to unexpectedly return overseas due to a family emergency and now it's unknown when he can return. His partner has been taking care of Blue but has decided to join her partner which meant Blue needed a new home.
Our volunteers jumped into action, and we want to say a massive thank you to Caty who collected Blue for us yesterday and brought him back to Kate Stockman in the Midlands to foster.
Blue was a bit anxious last night but today he is much happier and exploring his new home with his 2 foster brothers Bear and Thunder.
You can see he has protruding cherry eye glands in both eyes so these will be discussed at his vet check and a date set for an operation to hopefully repocket them.
He is a handsome chap now but will be a stunner once they have been sorted out, and he will be neutered at around 18 months.
Welcome to GBSR Blue, your Springboard journey awaits you x
Or follow Blues story in our Community Rescue Group on Facebook using this link
https://www.facebook.com/groups/1793138384086708
{"slide_to_show":"3","slide_to_scroll":"1","autoplay":"true","autoplay_speed":"3000","speed":"800","arrows":"true","dots":"false","loop":"true","centermode":"false"}