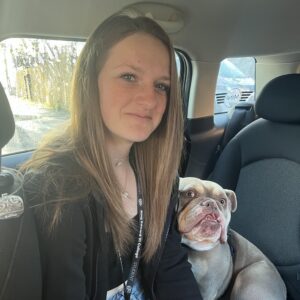 Monroe is home!
We are so thrilled to announce that the beautiful Monroe has found her forever home with Juliet, David, and family.
Monroe was collected on Saturday and has wasted no time getting to know her new brother Alfie and has taken to following him around.
It's so lovely to see that she is settling in well.
Thank you to Danielle and family for being the best fosters to Monroe. We all know how much you love her.
You have done a fabulous job preparing Monroe for her happy ever after and we will be forever thankful!
Please join us in congratulating Juliet, David, and family on their beautiful new girl Monroe. We wish you many years of happiness and memories together.
Monroe's Previous Adoption Statement below,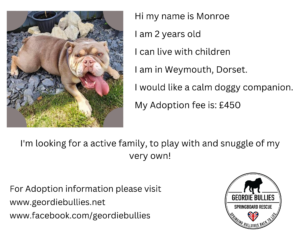 Dogs name: Monroe
Age: 2 years old.
Current location: Weymouth, Dorset.
I CAN LIVE WITH
Children: Yes, dog savvy children.
Cats: Untested.
Dogs: Yes, calm and laid-back dogs.
A BIT ABOUT ME
Personality:
Monroe is an incredibly happy and playful young girl. She loves a bit of rough play with her foster dad, and a ball is her favourite toy.
She loves all humans and is very affectionate, any interaction is a positive one for her, whether that be a good bum scratch and tummy tickle or a bath.
Behaviour:
Monroe is an excitable young girl, like everything is new and she's just so happy to be a part of it all.
She may mouth and hump to begin with, but with firm command NO she will stop. This is excitable behaviour and as she settles it will stop.
She sits, lays down and will sit for her food and when crossing the road.
Needs:
Monroe needs an active family, one that will keep her involved in daily life and take her on all their adventures.
A family that can teach her boundaries and help her reach her full potential.
A good garden is a must for this girl, with plenty space for her to run around and play with a ball.
Any children in the home must be supervised, as Monroe is an excitable young girl and has the potential to jump and knock smaller children over.
Children must understand that bulldogs need time to settle in and have space to rest peacefully and uninterrupted.
Walk/exercise:
Monroe walks well on her own, and with company.
She can get excited meeting unfamiliar dog's but holds no malice.
Monroe currently walks twice a day for 30min each walk.
Toilet trained:
Yes, Monroe is toilet trained, but may have an accident as she settles in and learns her new environment.
Can be left:
Monroe can be left for up to four hours in her crate so ideally, she will have one in her new home. She is a good girl in a crate, it's her safe space with a bed or blanket to snuggle on, and some toys to chew on.
Travel:
Monroe travels very well with a seat belt restraint on the back seat. Because of this we will consider applications up to four hours from her current location.
Things to be aware of:
Monroe came to GBSR after being abandoned on the streets and finding herself in a shelter. She has the most beautiful temperament and settled very well into her foster home.
Monroe is currently booked in for her spay on 17th August, if she is adopted prior, she will be going home on a "to be spayed" contract which will be undertaken at a vet of our choice with costs covered by the charity.
Additional information:
Monroe is an amazing young girl; she is everything a bulldog should be and proves just how resilient the breed is.
Any family lucky to adopt her will be forever blessed.
Monroe's story below,
Monroe is a 2-year-old female and was handed to us as a stray from the Dog warden.
Monroe was found as a stray 2.5 weeks ago and was handed in to a local vet.
Unable to keep her, they called the local kennel to see if they had space for her. The kennels did contact the person on her microchip who was her breeder, they didn't want her and had no knowledge of who he sold her to!
The kennel made contact with us and asked if we would take her, of course we said yes!
She was checked over by the vet at the kennels and has ear and skin issues.
We don't even know her name, so we have decided to call her Monroe suggested by her foster Mum.
We would like to say a massive thank you to Danielle Barlow for collecting Monroe so quickly from the kennels. She will be staying in foster in the South East.
When she is ready for her forever home her adoption Poster will be shared on all our platforms and Please keep your eyes peeled for more Monroe updates on our platforms.
For more updates on all our dogs please join our community group
https://www.facebook.com/groups/1793138384086708
{"slide_to_show":"3","slide_to_scroll":"1","autoplay":"true","autoplay_speed":"3000","speed":"800","arrows":"true","dots":"false","loop":"true","centermode":"false"}