If you would like to apply for Bob, please follow the link at the bottom of the page and complete the application form but before you do that, please read the adoption statement.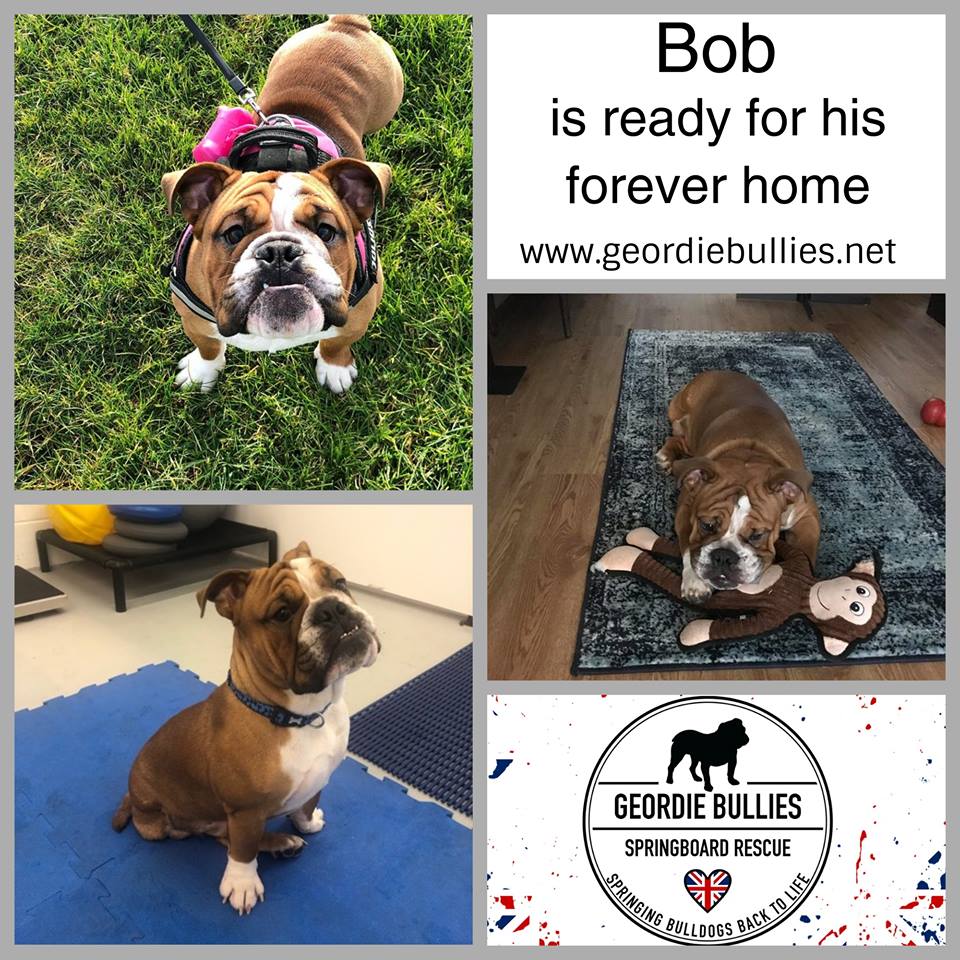 Name: Bob
Age: 9 months 
Can live with children: Yes
Can live with dogs: Yes
Can live with cats: Yes
Current Location: Hampshire
Personality: 
Bob is a typical young dog. He is very playful and loving and completely forgets he only has 3 legs. He loves other people and dogs and will sit and have cuddles and he also loves a bit of rough play and being a puppy he needs plenty of chew toys.
Things to be Aware of:
Because Bob is 3 legged, he needs to be on a strict diet to ensure that he does not become over weight. Also, being a puppy, he isn't very interested in following commands and his recall needs more work, he will sit though. The fact he has 3 legs does not hinder him he will manage to do anything a 4-legged dog can do. He will need time to build up muscle. 
The Ideal Family:
Bob loves playing so another dog for company will be ideal. He will need neutering once he reaches maturity and the charity will nominate a preferred vet's practice and cover the cost of this. Because he is a bouncy puppy, very young children will require supervision as he might knock them over. Bob has never shown any aggression and it is felt he will fit into family life very well.
Other comments:
Bob has been having regular hydro therapy sessions whilst in foster. This has been to strengthen his back and supporting legs. He loves going on walks and having exercise but will overdo it if allowed, so some guidance will be provided by his foster family. He needs to build up more muscle in his other 3 legs as he grows to compensate for his lost leg. This will take time so whilst he is he doesn't need to over-do it otherwise he will be stiff and sore the next day. Regular walks are fine just not for extended periods. 
As he is not yet neutered, Bob cannot be re-homed where an un-spayed bitch is present.
He is on a raw diet, which is helping him maintain a healthy weight and again guidance can be provided. He will need continued hydro therapy sessions and short walks to keep him fit.
Bob can be left up to 4 hours, ideally in a crate and he travels well so we are looking for a new home, no more than 4 hours from his current location.
If you have any questions, please ask Paula Manley, he foster mum
Bobs adoption fee is £400 and will need to be paid in full prior to him going home which will also be subject to a home check.
If you feel you can offer the perfect home to Bob, then please complete our application form via the link below
Please note, if you don't meet his criteria you won't be considered to adopt him
https://www.cognitoforms.com/GeordieBulliesSpringboard1/adoptionapplication
{"slide_to_show":"3","slide_to_scroll":"1","autoplay":"true","autoplay_speed":"3000","speed":"800","arrows":"true","dots":"false","loop":"true","centermode":"false"}