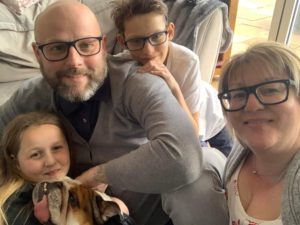 We are absolutely over joyed to announce Bonita is now home!
A day that at one point we never thought was a possibility!
Bonita joined her new family Clare, David, their children and new fur sister Winnie.
Bonita settled perfectly and was out on walks with Winnie and forming a great friendship together, in no time. She is thoroughly enjoying being a huge part of her new family and is loved and adored by all.
So please join us in congratulating Clare and David and their children on their gorgeous new addition Bonita
We wish you a lifetime of happiness together and look forward to sharing the next chapter of your life with you.
Bonita be happy sweetheart, you are a true warrior and deserve all the love in the world
A massive thank you to Tara and Richard Chatterway for being fabulous foster parents. You have done an amazing job loving and caring for Bonita especially after both her surgeries. You went above and beyond during this very emotional time, and we are all very grateful to you for nursing Bonita back to health and preparing her for her forever home.
A little of Bonita's story below,
We were contacted by Bonita's owner as his health was deteriorating and he could no longer care for Bonita and wanted to make sure she was safe.
It was evident that our brave little poppet was in a bad way and needed lifesaving BOAS surgery.
We had been caught between a rock and a hard stone to do what's best for our beautiful girl. Without the BOAS Bonita could have aspirated at any time which would be fatal but having this kind of intervention carries its own risks as well but we had to give our girl the chance to fight again.
To say this rescue was traumatic would be an understatement we knew this was going to be a long difficult and stressful time for all of us but especially for Bonita's foster mum Tara who is at her wits end with worry for her girl.
The emotional investment we and our volunteers put into these babies the moment they are in our care can weigh deeply on us, but we know no other way to be. At that moment when we were unsure if Bonita was coming home to her foster mum had us all on our knees praying.
Our prayers were answered how long for we didn't know. But Bonita was home in her foster mum's care and wrapped in her love. Each day was a celebration as she got stronger. It was that love that gave Bonita the will to keep fighting.
The absolute elation we all felt when we were able to put Bonita up for adoption, she was finally ready and healthy enough to start her happily ever after.
Bonita is a very laid back and chilled out girl who is starting to come out of her shell and play more. She enjoys all human contact and is happy around the other dogs in her foster home.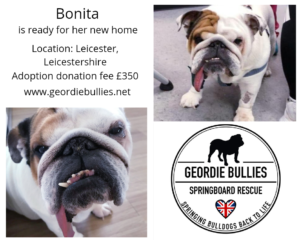 Dogs name: Bonita
Age:  5 Years, 2 months
Can live with children:  Yes
Can live with dogs: Yes
Can live with cats:  Untested
Current location:  Leicester, Midlands
Things to be aware of: 
Bonita still requires toilet training; she is getting better but will need a good routine in her new home
And she will eat the hoover if she gets a chance..!
The ideal home: 
Bonita requires a home where her new owners are patient with her toilet training. Because she needs routine, she will need someone at home to remind her to go out.  She is fabulous around children and other dogs, so we are happy her for to be rehomed with both. Her fitness is starting to come back but she is never going to be super energetic.
Other comments: 
Bonita has really been through the wars with her health since coming into foster. She has now recovered from the BOAS and tumour removal so its time for her to rediscover life and she deserves a loving family.
The toilet training will come but her new owners will really need to understand she needs guidance in this area. Sadly this is as a result of her being crated for most of her life.
Bonita doesn't travel very well so we will be looking for a new home for her up to 90 minutes from her current location.
{"slide_to_show":"3","slide_to_scroll":"1","autoplay":"true","autoplay_speed":"3000","speed":"800","arrows":"true","dots":"false","loop":"true","centermode":"false"}