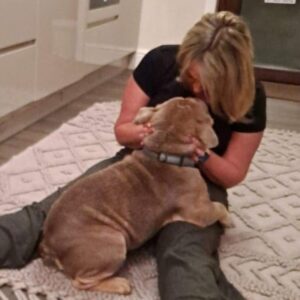 Lupo is Home!
We are very pleased to announce Lupo has gone home!
He was collected by his new family Amanda and Andy. Sometimes it's instant that bond and love. From the moment Amanda laid eyes on our handsome Lupo that was clear!
He took not time getting busy exploring his new home and is enjoying lots of snuggles and belly rubs. His mum & dad have totally fallen in love with all his charms, and who can blame them.
So please join us in congratulating Amanda, Andy and family
We wish you a lifetime of endless fun and happiness together and look forward to sharing the next chapter of your life with you!
Be happy beautiful boy, live your best life and make the most amazing memories of all you future adventures!
A massive thank you to Lupo's foster mum Emma Marie for preparing Lupo for his forever home. You have been amazing and we are forever grateful to you.
A little of Lupo's stpry below,
Lupo is a lovely little boy who has a calm, laid back demeanour and adores being around the people in his foster home, and will happily have strokes all over. He is good with commands and will sit before eating. As the resident dogs in the foster home can me possessive over toys they have been removed, but Lupo loves playing. When he gets excited and wants attention, he will gently mouth hands / feet, but this is not aggressive and is managed with a firm command.
He is still young and as such needs lots of chew toys around as he loves chewing! Lupo is fabulous with the dogs in his home but he can get anxious when other dogs approach him whilst out walking on a lead. He doesn't lunge but he will growl if dogs come into his space so he would benefit from socialisation classes in his new home.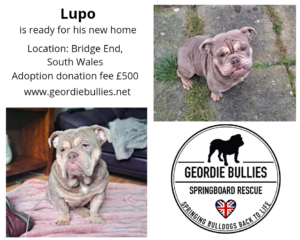 Dogs name: Lupo
Age: 1 Year
Can live with children: Dog savvy children aged 8 years and above
Can live with dogs: Yes – must be sterilised
Can live with cats: No – and no other small furries
Current location: Bridge End, South Wales
Things to be aware of:
Lupo will need to be neutered at 18months. We will organise and pay for this at a vet of our choice.
He has also had bilateral cherry eye surgery whilst with us and we don't anticipate any ongoing problems.
Toilet training is ongoing with Lupo. He needs a good routine to help him understand what he needs to do, he is still young and there is no reason to think that a routine cannot be established.
The ideal home:
Lupo is not high energy and enjoys a calm home so we will be looking for a similar situation for him. He loves the bitch he lives with at present so it would be nice to have a friendly bitch in his new home.
We also feel any children in the home will need to be dog savvy and aged 8 years and older, old enough to understand when Lupo needs his own space. Obviously, any children visiting the home would need to be supervised.
As Lupo is good with his toileting when there is someone home, we will be looking for a family where he is not left for long periods.
Other comments:
Anyone applying for Lupo will need to understand his requirements. He will need on going toilet training and socialisation training.
He loves chewing, so this needs to be appreciated, he will chew!. Lupo needs a good supply of heavy duty chew toys to keep him occupied when he is left. He could also possibly benefit from being crated when left as well.
He is only just a year old so Lupo is very trainable, sadly he never got much of this in his previous home, but with the right approach, Lupo will develop into a happy well rounded little lad. His foster mum describes him as an adorable love bug, and he really is.
Lupo travels well so we will consider a new home for him up to 4 hours from his current location.
{"slide_to_show":"3","slide_to_scroll":"1","autoplay":"true","autoplay_speed":"3000","speed":"800","arrows":"true","dots":"false","loop":"true","centermode":"false"}