Bonnie is a happy bouncy, energetic girl who is very playful and who loves lots of strokes and cuddles.
She walks very well on her extending lead and loves her walks. Because she came into season just after she came into foster, Bonnie has mostly walked alone but when she has met a dog, she has generally been fine.
Bonnie is food orientated so training her with treats has been successful and she can sit, wait and paw.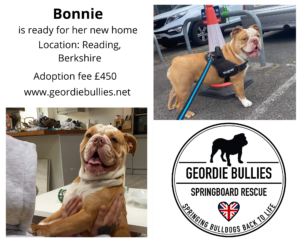 Dogs name:  Bonnie
Age:  18 Months
Can live with children:  Yes
Can live with dogs:  Yes
Can live with cats:  Untested
Current location:  Reading, Berkshire
Things to be aware of: 
Bonnie barks a lot when the door is knocked, and this can be off putting for visitors. She is not aggressive, and her foster mum always asks visitors to ignore Bonnie and to let her come to them in her own time. This technique would need to continue in her new home.
Because of seasonal allergies, Bonnie is on Piriton twice daily which will need to be continued through the summer and her foster mum has also used CLX wipes on her feet and creases.
Bonnie is nervous of quick movements around her or having anything held over her head and she hates Sudocrem and will zoom around the house to avoid it..!
Bonnie is being rehomed as unspayed and as such we will not consider a home where there is an entire male dog present. We will organise and pay for her spay at a vet of our choice in about 5 weeks.
The ideal home: 
Bonnie is an active girl who would be equally at home either with another playful dog or on her own.
She has been around children as young as 5 years old and whilst her foster mum doesn't have any worries about her being around young children, obviously they would need to be under supervision.
She is young and will try and push boundaries so ideally her new family will be familiar with the breed and / or prove to be a firm pack leader and keep up her training.
Other comments: 
Bonnie came into foster quite out of control with her behaviour.
She hadn't had a lot of socialisations with people and this is why she barks at the door when visitors arrive. The foster home is busy and so Bonnie is starting to understand she doesn't need to bark but this will take time and managing in her new home.
It is essential that her new family are committed to Bonnies continued training as she will push boundaries.
Her foster mum says Bonnie is a gorgeous girl and she has been a pleasure to have in foster and will make any family complete.
Bonnie is house trained and happily travels well in the car so we are looking for her perfect home up to 4 hours from her current location in Berkshire
Bonnie's adoption donation fee is £450 and will need to be paid in full prior to her going home which will also be subject to a home check.

? PLEASE READ CAREFULLY BEFORE APPLYING ?

1. Have you read the adoption criteria in full?  You must meet ALL dog's criteria.
2. COMPLETE APPLICATION form and pay your £5 subscription
3. PAYMENT REFERENCE must on the application form to cross reference.
4. PAYMENT METHOD : pay via PayPal www.paypal.me/gbspringboard or
Bank transfer Sort : 09.01.28 Acc : 92014344.

? UNLESS WE SEE PROOF YOU HAVE PAID; WE CANNOT PROCESS YOUR APPLICATION ?.

£5 per year allows you to apply for as many dogs as you wish should you not be suitable on your first Application.
To apply, please complete the application form below

https://www.cognitoforms.com/GeordieBulliesSpringboard1/adoptionapplication