**** APPLICATIONS CLOSED 16 October 19 ****
Bubba is a typical Bulldog puppy who is very playful. He is non-reactive to dogs & cats outside the home and we have no reason to believe he would be any different in a home with other animals.
He loves his walks and really enjoys his tug of war toys, balls and hard chews such as stag bars.
Bubba relishes in human contact but he is young and sometimes needs some reassurance, especially out walking on roads as he is scared of loud traffic noises.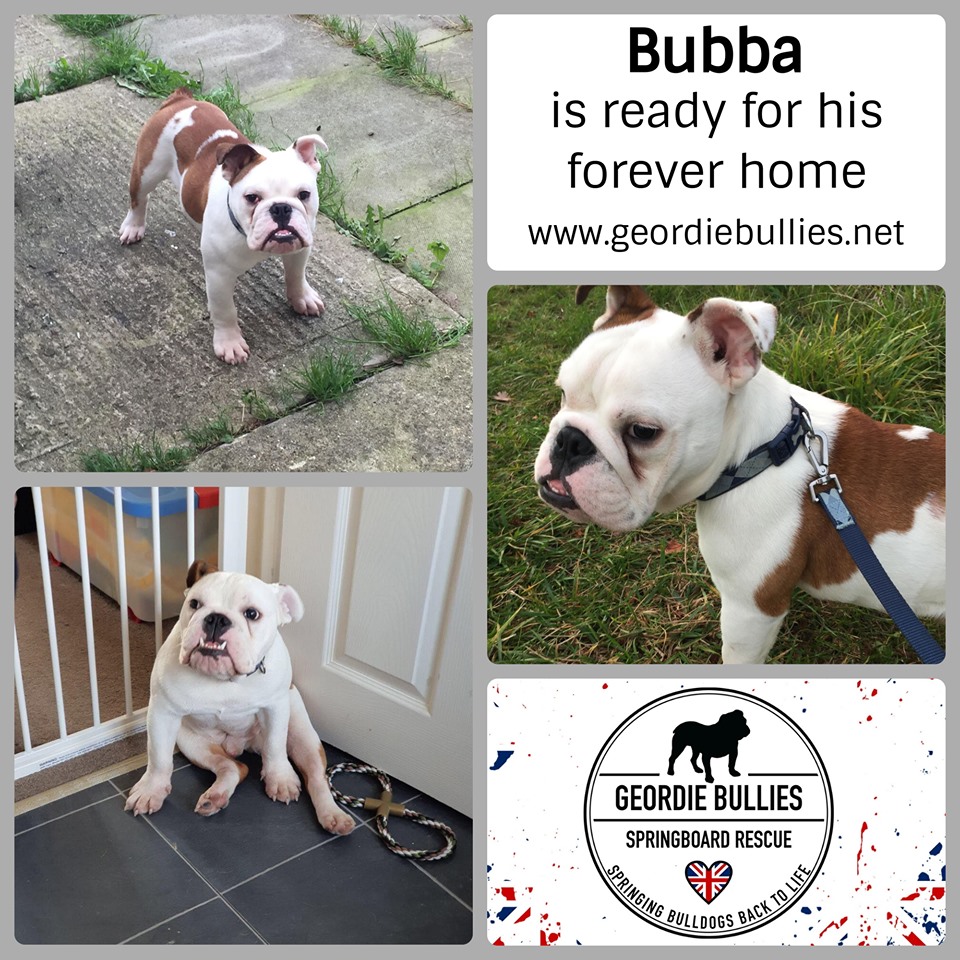 Dogs Name: Bubba
Age: 7 Months
Can live with children: Yes
Can live with dogs: Yes
Can live with cats: Untested but probably
Current location: Bedfordshire
Things to be Aware of:
Bubba has cherry eye (both eyes) that is managed by massaging the gland back in. This doesn't bother him, and the hope is that as he grows, the muscle will hold the gland in. If it transpires that he needs a cherry eye operation, the charity will organise and cover the cost of this.
Bubba is not neutered and will not be neutered until he has matured at around 18 months old so because of this, we cant rehome him to a family with a resident unspayed bitch. The charity will organise the neuter and cover the cost.
The Ideal Family:
As a puppy, Bubba needs a home where there is someone around for a good part of the day to spend time with him and continue with training, see below.
He can be rehomed with children as he adores the young children in his foster home but very young children would need to be supervised as he can be boisterous when he gets excited.
It would be lovely for Bubba to have a canine companion to play with so he can be rehomed with another dog as long as it's not an entire bitch.
Other comments:
As a puppy, Bubba's new family need to expect puppyish behaviour such as chewing and accidents in the home, is nearly 100% toilet trained but still has the odd accident.
He will try and push boundaries as he matures so he will benefit from continued general training such as sit & stay and his recall needs to be worked on but he responds well to praise so we don't see any issues with this.
Puppies need a lot time and attention so he will be rehomed to a family that will be around for him for most of the day.
Bubba travels well so he can be rehomed up to 4 hours from his current location in Bedfordshire and he is up to date with his inoculations.
If you have any questions, please ask Natalie Schesselman foster mum to Bubba.
Bubba's adoption fee is £400 and will need to be paid in full prior to him going home which will also be subject to a home check.
{"slide_to_show":"3","slide_to_scroll":"1","autoplay":"true","autoplay_speed":"3000","speed":"800","arrows":"true","dots":"false","loop":"true","centermode":"false"}