Buddy is described by his foster mum as a big softie who loves nothing more than being gently brushed and petted. He is so gorgeous he will nod off if you hold his paw for him! Buddy does have a chronic medical condition called mega oesophagus and will need special care to ensure he remains well but once a routine is set then he is very manageable.
Buddy walks on a harness and a lead and does enjoy his outdoor adventures. He walks well on his own or with another dog and is unreactive to other dogs in public. Buddy's recall is typical of most bulldogs and isn't great, it will need work going forward!
Buddy will sit and give a paw if he thinks a treat in involved! He can leave if asked but this needs work!
Buddy  loves toys, especially his squeaky snake but he can get over excited. He does like rough play but this needs undertaking with caution as he can vomit due to his mega oesophagus.
Buddy is fine with his cleaning regime and his foster mum tends to undertake this when he's sat in his chair after his meal. He also needs his ears cleaning as they can get a little dirty.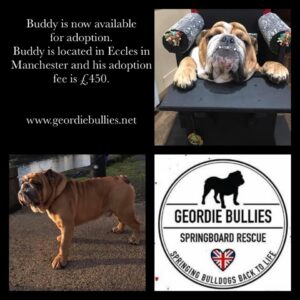 Dogs name: Buddy
Age:  3 years old
Spayed/ Neutered: Yes
Can live with children:  yes
Age of children : 8 plus
Can live with dogs:  No
Can live with cats: No
Current location:  Eccles, Manchester
How far can the dog travel from current location: 4 hours
Things to be aware of:  
Buddy has a condition called mega oesophagus which means without the right treatment and feeding techniques he will vomit profusely. Buddy's care is fairly simple but he needs a family who has the time willingness to stick to his current routine.
Buddy has medication prior to breakfast which is simple to give and inexpensive. He needs feeding in a chair and his food prepared to be fed in balls. All of this can be covered further by speaking to buddy's foster mum or messaging our page.
He should get his water allowance through his food as if he drinks this can make him vomit.
Buddy should remain in his chair for 10 minutes post feeding and then remain calm after this.
Buddy is fine with dogs in public but bit in the home so he will need to be an only dog.
Buddy is a typical bully and is very stubborn. He can get frustrated when told no and can bark but no malice is meant.
Buddy does like meeting people outside the home but in the home can be nervous initially of new people.
The ideal home: 
Buddy will be an amazing addition to someone who has the time to spend with him. Once a bond is built Buddy will be a loyal companion.
Buddy has mega oesophagus and will need someone at home a lot of the time to ensure they have time to feed and rest him properly.
Buddy needs to be an only dog in the home and we feel he would be best placed with children ages 8 plus to ensure buddy is kept calm and is therefore less likely to vomit.
Other comments:
Buddy is an absolute sweetheart and with the right management of his Mega Oesophagus he will thrive and flourish in his forever home.
Buddy is toilet trained but did scent mark initially. Buddy can become sickly while traveling, we will consider a new home for him up to 4 hours from his current location in Eccles, Manchester.
If you have any questions, please ask Mandi Far Broderick  foster mum to Buddy.
Buddy's adoption fee is £450 and will need to be paid in full prior to going home which will also be subject to a home check.
?? PLEASE READ CAREFULLY BEFORE APPLYING ??
Have you read the adoption criteria in full?  You must meet ALL dog's criteria. 
COMPLETE APPLICATION form and pay your £5 subscription 
PAYMENT REFERENCE must on the application form to cross reference. 
PAYMENT METHOD : pay via PayPal www.paypal.me/gbspringboard or
Bank transfer Sort : 09.01.28 Acc : 92014344. 
?? UNLESS WE SEE PROOF YOU HAVE PAID; WE CANNOT PROCESS YOUR APPLICATION ??. 
£5 per year allows you to apply for as many dogs as you wish should you not be suitable on your first Application.
To apply, please complete the application form below
https://www.cognitoforms.com/GeordieBulliesSpringboard1/adoptionapplication
{"slide_to_show":"3","slide_to_scroll":"1","autoplay":"true","autoplay_speed":"3000","speed":"800","arrows":"true","dots":"false","loop":"true","centermode":"false"}