Sadie & Ruby – Now Adopted
Sadie is described by her foster mum as Outgoing , Lovely, confident , affectionate and active. Ruby is Shy, cheeky, loves her humans and excitable. Ruby being shy needs Sadie to give her confidence. They both enjoy walks Sadie is more focused and listens when on a walk , she has limited vision so needs guidance with direction and can bump into things if the light is poor. Ruby is outgoing loves walking and get distracted by anything that moves! Sadie sometimes tires quicker than Ruby whilst out.
Both girls love toys but play separate as Ruby tends to steal the toys and can overpower Sadie when wanting them back. Sadie likes sniffing out treats from toys , Ruby likes tug of war and ball throwing.
Both girls are ok with grooming and cleaning .
Both girls adore human affection and will follow you about to see what's going on , especially Sadie who will hang around for food from your plate which we dont encourage.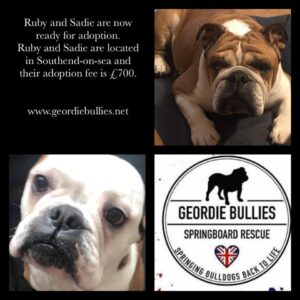 Things to be aware of:
Dogs name: Ruby and Sadie
Age: Ruby is 4 and Sadie is 6
Spayed/ Neutered: Both spayed
Can live with children: yes
Age of children : Over 8 due to Sadie's poor sight . Visiting children will be fine under this age for short periods of time.
Can live with dogs: Need a home together no other dogs .
Can live with cats: No will chase, no small furries .
Current location: South end on Sea
How far can the dog travel from current location: 4 hours
Sadie has dry eye which prior to rehoming was untreated and has given her limited eye sight . She requires drops each day to lubricate her eyes , they are minimal cost , she also has Optimune which is around £25 per month to encourage tear production in her eyes. She will needs these life long.
Ruby has sensitive skin can can get itchy, sometimes requiring piriton. Sadie has a fatty lump on her back leg , vets advice to leave it.
Both girls aren't fan of loud noises, Ruby is tinted and Sadie sometimes can't see where it's coming from.
They adore each other and both complement each others needs .
The girls are fed Burns sensitive it works well for Sadie skin and they are fed separate as Ruby is food aggressive with her .
The ideal home:
A home where they are centre of attention, no small animals. A home that can cater for both girls needs. They are slightly different but adore each other.
Other comments:
Ruby and Sadie have been a pleasure in foster, they sleep together in a crate with the door open.
Sadie sometimes barks to be out for a wee but not often. They are good with children it's really Sadie eyesight that gives us cause for concern in younger children as she cant see well and could be startled by a young children, visiting children would be fine. They are both toilet trained and have basic command training.
We will consider a new home for them up to 4 hours from her current location in Southend on sea.
If you have any questions, please ask foster mum Laura Falco.
Ruby and Sadie adoption fee is £ 700 and will need to be paid in full prior to going home which will also be subject to a homecheck.
?? PLEASE READ CAREFULLY BEFORE APPLYING ??
Ha

ve you read the adoption criteria in full? You must meet ALL dog's criteria.

COMPLETE APPLICATION form and pay your £5 subscription

PAYMENT REFERENCE must on the application form to cross reference.

PAYMENT METHOD : pay via PayPal www.paypal.me/gbspringboard or
Bank transfer Sort : 09.01.28 Acc : 92014344.
?? UNLESS WE SEE PROOF YOU HAVE PAID; WE CANNOT PROCESS YOUR APPLICATION ??.
£5 per year allows you to apply for as many dogs as you wish should you not be suitable on your first Application.
To apply, please complete the application form below
https://www.cognitoforms.com/GeordieBulliesSpringboard1/adoptionapplication
{"slide_to_show":"3","slide_to_scroll":"1","autoplay":"true","autoplay_speed":"3000","speed":"800","arrows":"true","dots":"false","loop":"true","centermode":"false"}