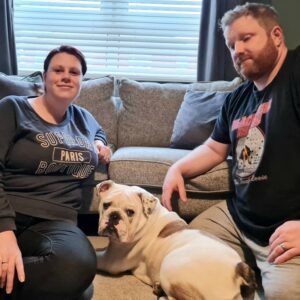 Cindy Lou is home!
We are very pleased to announce that Cindy Lou has gone home.
She now has a new name, Dottie to go with her new life.
Dottie was collected by her family, and she is now being adored by her new slaves Lisa, Matt and their son Seth who have fallen in love with her charms already.
Very sadly Lisa, Matt and Seth had to say goodbye to their GBSR girl Luna a few months ago when she passed to the bridge. They were left with a huge void in their hearts but felt the time was right to open their hearts and home to another GBSR girl.
We are very much of the belief that Luna guided them to our beautiful Cindy Lou.
We have no doubt that Cindy Lou will bring so much love and life to her new family, and they will love her and give her the amazing life they gave Luna.
So please join us in congratulating Lisa, Matt and Seth on their beautiful girl, We are looking forward to seeing your new adventures with the gorgeous Dottie
Huge thank you to Adam and Sarah who have done a fabulous job preparing Dottie for her new home.
A little of Cindy Lou's story below,
We were contacted by lady to ask if we could take her in to foster and find her a loving forever home. The lady's daughter became ill and they were having regular hospital stays and sometimes they were in all day or overnight. It meant Cindy Lou was spending a lot of time on her own and she was suffering because of this. The lady knew she couldn't carry on like this and only wanted the best for her.
Cindy Lou already looks quite the character, and we cannot wait to see where her adventures take her.
She will be having a full check up at the vets and be spayed when she reaches 18 months old.
Thank you to Adrian & Marie for going to collect her and she will be staying with them and being fostered in the midlands.
Cindy Lou is an amazingly bright and cheeky young girl.
She has a real thirst for life and all things fun.
She is incredibly playful and full of young pup uncoordinated energy.
Cindy Lou loves a ball and will happily play with human and dog.
She absolutely loves a garden and spending her days happily sniffing and exploring.
Cindy Lou loves all human interaction and will love to crawl up into your knee for a cuddle.
She may be a bit reluctant to put on her harness to go out for a walk but once on her way she walks well and enjoys greeting unfamiliar dogs and people alike.
Still being so young training is ongoing to which she is being very responsive to, with the odd bulldog deaf ear moment every now and then.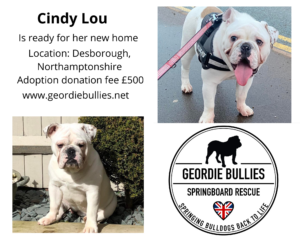 Dogs name: Cindy Lou.
Age: 10months. 
Can live with children:
Yes, dog savvy children.
Can live with dogs:
Yes, unspayed females but no unneutered males.
Can live with cats: 
Untested.
Current location:
Desborough, Northamptonshire. 
Things to be aware of:
Cindy Lou will be rehomed on a "spay" contract, to be completed by a vet of the charity's choosing and costs, at 18months of age as well as Cindy Lou's problematic eyelashes will be frozen or plucked during spay costs covered by the charity.
Cindy Lou isn't a great fan of having her folds cleaned or eye drops put in, but she will allow you to do it with calm reassurance and an extra pair of hands.
Cindy Lou is a young bouncy girl not yet aware of her size so any young children must be supervised as she has the potential to knock them over, she has absolutely no malice in her at all.
Any training must be continued in her new home to encourage Cindy Lou to reach her full potential.   
The ideal home:
Cindy Lou needs an active family home, one she can be included in daily family life and every adventure. She will benefit greatly from a young energetic playful but laid-back dog in the home.
No unneutered males, but unspayed females are ok as long as they are excepting of other dogs in the home and not have a dominant nature.
Cindy Lou needs a family that can help her reach her full potential, with training, boundaries and so much love.
She truly has the heart of an incredible loving and playful family pet.
Follow Cindy Lou https://www.facebook.com/geordiebullies/
{"slide_to_show":"3","slide_to_scroll":"1","autoplay":"true","autoplay_speed":"3000","speed":"800","arrows":"true","dots":"false","loop":"true","centermode":"false"}