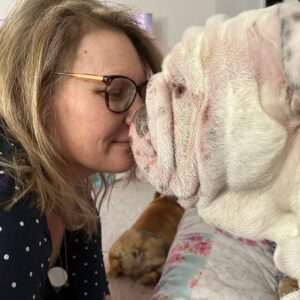 Carlos has found his dream home!
We are super excited to tell you Carlos is home and never moved anywhere!
Carlos has been in foster with our very own Nadia and her gorgeous four-legged girl Rosie. Carlos settled well in foster but has displayed some unpredictable behaviour along the way.
We became concerned that we could never find him a home that understood he has suffered unknown trauma, and he needs a very compassionate and understanding home.
So after lots of discussions it was deemed it would be very detrimental for Carlos to have the upheaval of moving home again. Nadia has always been 100% committed to working with Carlos to provide the loving and stable home he deserves so we are thrilled that he will be staying put with her.
Massive congratulations to you Nadia on your bonnie boy and to Senor Carlos have the most wonderful life full of happiness, joy and love sweetheart. We cannot wait to share all your new adventures with you and your BFF Rosie!
A massive thank you to Paula for caring for Carlos when he first came into foster.
A little of Carlos's story below,
Carlos's journey with us has been a little different than our usual dog's journeys.
As a charity we rely on those surrendering their dogs to be completely honest with us, and unfortunately we don't believe this to be the case this time. 
All the homes he has been through has left him highly nervous and we couldn't knowingly put him through it again. He is and incredibly affectionate and sweet boy, and has come out of his shell more every day. His new environment has given him the freedom to grow in confidence.
Unfortunately Carlos showed behaviours that would have been proved difficult to rehome during our normal protocol. 
We truly believe in these dogs and as a charity we have will never knowingly put a dog in a situation that will be detrimental to them, or to whoever adopts them. So we made the decision to not put him up for adoption.
During long discussions with our team and Carlos's foster Mum, it was clear that we all loved this boy. And when his foster mum asked to adopt him, lumps and bumps included we knew this was where he should be.    
Carlos's intro to GBSR.
Carlos is a 2-year-old entire male.
We were sent a message through our Facebook page from a lady. She had taken Carlos in to look after him but couldn't commit to keeping him. Carlos's first owner rehomed him due to her child being allergic to his fur, then he was in a shared home with 2 lots of people. His owner then decided to go back to live in Brazil and leave him with the other housemates, but they didn't want him either. Carlos is just 2 years old and is on to his 6th home.
When they lady first took him in his allergies were really bad and flared up this was due to being fed food that didn't agree with him. He is still quite pink in places, so we have changed his diet to help with this.
It is time to put a stop to poor Carlos conveyer belt of homes, A big Thank you to Paula for going to collect Carlos and keeping him in foster in the South East.
He will be going for a full check-up and to be neutered.  We will get him in the best of health while we assess what type of forever home he needs.
When he is ready for his forever home his Adoption Poster will be shared, so please keep your eyes peeled for more Carlos updates.
Welcome to your GBSR Family Carlos! We cannot wait to share the next chapter of your life with you!
Follow Carlos https://www.facebook.com/geordiebullies/
{"slide_to_show":"3","slide_to_scroll":"1","autoplay":"true","autoplay_speed":"3000","speed":"800","arrows":"true","dots":"false","loop":"true","centermode":"false"}