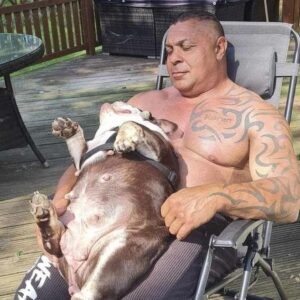 Coco is Home
We are absolutely over the moon to announce that our beautiful Coco Pops is now home, and she hasn't move.
Coco had already been through so much and would need a very special home, that we had to be so careful with the family we picked for her.
Coco had a few applications, but unfortunately, none of them were quite right for her, so when Kaz expressed her wish to adopt Coco, we agreed that this beautiful girl was already home, and we couldn't be happier.
So, with no further ado, will you please join us in wishing Kaz n Gaz and family many congratulations on their beautiful girl Coco.
We wish you many years of joy, love and happiness with your furever family sweetheart and look forward to seeing all your adventures.
Previous adoption statement.
Coco is an incredible character; she is very cheeky and loving and affectionate to her 'humans'. She playful and love a bit of rough and tumble with her foster dad.
She absolutely lives for human interaction and loves nothing more than spending her days being cuddled and pampered anyway she can, which includes her grooming routine and a daily coconut oil rub on her tummy.
Coco currently lives with a laid-back dog called Bronx in her foster home. She isn't overly playful, but she will have a bundle with Bronx on occasion. She is a toy thief, and once she has stolen a toy, there is no way Bronx is getting it back.
Coco is a very happy walker, and she doesn't venture from your side. She will meet and greet other dogs outside but isn't over interested, and after a mutual sniff, she will move on.
She has not been off lead on her walks as she has no recall, so she is walked on a long lead without any problems and she is a plodder as this little girl is definitely not built for speed..!
Coco isn't overly interested in children but does enjoy if they come to give her a cuddle and a stroke and she is limited on her understanding of commands, but she will sit if told to.
Dogs name: Coco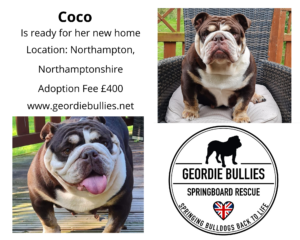 Age: 4 years old. 
Can live with children: Yes, dog savvy.
Can live with dogs: Yes, laid-back with no possession issues.
Can live with cats: Untested. 
 Current location: Northampton, Northamptonshire
Things to be aware of:
Coco came to us having been excessively crated and quite overweight with muscle wastage. She also had a very baggy undercarriage from multiple pregnancies.
She has now been spayed and the excess skin removed from her belly. She needs to continue losing weight and we will advise her new family on her feeding regime.
Because of the lack of exercise and over feeding in her previous life, Coco also needs to build up her strength and stamina with shorter regular walks.
Vet visits make Coco very anxious; her foster mum has been able to reassure her with reasonable success but it's something to be aware of should she need to visit a vet in her new home.
Toilet training is on-going, and she might regress a little bit in her new home, but her new owners must accept there will be the odd wet bed occasionally.
Coco has a slight entropion in her right eye. This doesn't need treatment but may do in the future. At present she is having daily 'over the counter' eye drops for dry eye.
Like many Bulldogs, Coco struggles in the heat, but her breathing is getting better with the weight loss. During hot summer days she will need a cool room, with a fan/aircon.
The ideal home: 
Coco needs a calm environment and prefers a quiet life. She loves human interaction, so we prefer a home where she is not left for more than 4 hours at any one time. If there is a resident dog, they need to be laid back and not toy possessive and be happy to accept another dog in the home.
Children in the home need to be old enough to understand that she doesn't want to be pulled around but is happy to sit by your side for cuddles and young children would need to be supervised.
Coco needs a family who can take her on two gentle walks a day slowly building on her stamina and keep her on her weight loss journey.
Other comments: 
Coco loves the car and travels very well; because of this, we will consider applications up to four hours away from her current location.
Essentially Coco is calm girl suited to a calm home where she won't be left for long periods, and where she will receive a lot of human interaction.
She hasn't had the best start to life but with he right family she will continue to blossom, and she will make a fabulous family pet who you will be happy to take out on trips.
A little of Coco's journey with GBSR below,
Coco came to us a 4-year-old ex-breeding bitch.
We were contacted by a lady who rescued Coco from a life of breeding.
Unfortunately the lady had to return to work full time, and although she had someone going in to visit Coco and walk her, her neighbours told her Coco was still crying in the day, so she knew it wasn't fair on her and she wanted more company.
Coco had been overused for breeding for the first 3 years of her life. She had no idea how life should be, just kept in a crate until she was needed.  
As you can see from the pictures Coco had a very saggy undercarriage and is extremely overweight, this was having a massive impact on her breathing and was struggling to walk. 
It was so hard watching her suffer because of human greed, and we knew we couldn't fail her.
Coco is in foster with Kaz Royer, who has done everything we have asked of her, and then some.
Coco is so very afraid of the vet and got distressed quickly, her Foster Mum never left her side and got her through her spay and her 'Abdominoplasty' a very difficult surgery. 
Coco has healed wonderfully and has found a new love of life and walks. And as she continues on her weight loss journey she will be a new dog!
Coco will always carry with her those first years of her life, but we will make sure she never lives anything like it again.
{"slide_to_show":"3","slide_to_scroll":"1","autoplay":"true","autoplay_speed":"3000","speed":"800","arrows":"true","dots":"false","loop":"true","centermode":"false"}