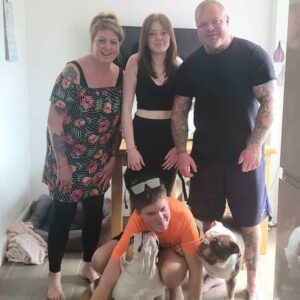 Mavis is home
Mavis was collected by her very excited pawrents, Martin and Emma.
Mavis has wasted no time in wrapping everyone around her paws and is settling into family life beautifully. She has been showered in lots of loves and kisses from Lauren and Riley and  has a new partner in crime in Zara, the bulldog.
Welcome to the rest of your life, Mavis.
All your new adventures start here. Have fun, baby girl, and we look forward to following the next part of your journey.
We want to say a heartfelt thank you to Jo and her family for fostering Mavis. Thank you, Jo, for being an amazing foster mummy to Mavis.
Mavis previous adoption statement.
Mavis is the most loving girl with the sweetest temperament and the waggiest tail you will ever have seen. She is very affectionate and loves attention.
She has enjoyed being a part of an active family with children to play with and fuss over. She has also enjoyed having a canine companion in the resident bulldog who has helped teach her the ropes and who loves a good game of rough and tumble.
Mavis came into foster not knowing any commands but with the help of food treats, she is really getting the hang of Sit and Stay but her recall is subject to a typical 'Bulldog deaf ear'.
Mavis really enjoys socialising, and she walks very well on her own or with another dog.
She is incredibly submissive and will roll on her back if a dog approaches her, but once the meeting is done, she will happily sniff and play away.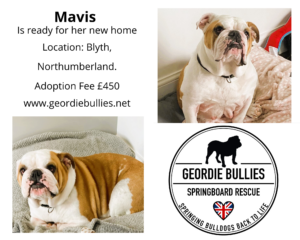 Dogs name: Mavis
Age: 4 years old.
Can live with children: Yes.
Can live with dogs: Yes, calm & laid-back dogs.
Can live with cats: Yes, dog savvy cats.
Current location: Blyth, Northumberland
Things to be aware of: 
Because of previous skin and ear infections, Mavis is having twice weekly baths in Malaseb as her skin is still inflamed, but this is getting better and she will need a strict diet to rule out if she may have possible food intolerances.
Her current food is mid-range and easily available and we prefer she stays on this.
The ideal home:
Mavis would fit very well into an active family home; she is a very gentle girl and is fabulous with children.
We would prefer she joins a loving family where she will be included in all that is daily family life and not left for long periods as she really thrives on interaction.
She currently enjoys 2 walks a day and will love lots of family adventures and she loves being out relaxing in the sun so a garden is a 'must have'.
She will benefit greatly from a calm and laid-back canine companion to snuggle up with and learn from and keep her company when her humans can't. Mavis can be left for up to 4 hours.
Other comments: 
Mavis is a very well-adjusted family dog; she is sociable with other dogs both in and out of the home and she loves the attention of children and adults alike.
Mavis travels very well and any family will be lucky to have such a fabulous dog in their family.
A little of Mavis's story below,
Mavis is a 4-year-old un-spayed bitch.
We were contacted by her owner to rehome her after a relationship breakdown a year ago as she was struggling to manage.
A big thank you to Jo for collecting Mavis and keeping her in foster with Nala in the North East. 
Unfortunately, on collection we found Mavis has a horrendous Flea infestation, she is literally crawling alive. Her skin is red raw with scratching, itching, and biting. Her feet are nearly bald, and she has open sores on her pads that look like urine burns possibly flea bites. Jo bathed her immediately and soothed her skin and applied flea treatment.
Her nose rope and ears are badly infected. She has allowed her foster mum to gently clean her up and her little tail has never stopped wagging. (GBSR) Nala Jo's Bulldog has become mum and is being so gentle and affectionate with her but unfortunately, she now has fleas too. Poor Jo has de-infested the car the dogs and her home.
Mavis is seeing our vet tomorrow to deal with her other issues as her back legs are weak and she has a strange walk which could be lack of muscle, or hip dysplasia.
When she is ready for her forever home her adoption Poster will be shared, so please keep your eyes peeled for more Mavis updates on our rescue group.
Welcome to your GBSR Family Mavis! We cannot wait to share the next chapter of your life with you!
Follow Mavis https://www.facebook.com/geordiebullies/
{"slide_to_show":"3","slide_to_scroll":"1","autoplay":"true","autoplay_speed":"3000","speed":"800","arrows":"true","dots":"false","loop":"true","centermode":"false"}