Daisy is a very loving girl and although she isn't keen on hugs, she loves to be stroked. She a real mummy's girl and can be wary of men. She has two 25-minute walks a day which is enough for her.
Daisy walks well on a lead and will plod along and sniff at everything and she pees like a boy!
She isn't really interested in interacting with other dogs, a quick sniff and she is off.
The love of Daisys life is food and she can be in the deepest sleep and still hear a cupboard door open and be there is a shot. She will give you her paw but that's about it so more training with her will be required.
She doesn't like rough play and doesn't really play with toys, preferring instead to be around her foster mum & dad. She is very characterful and makes her foster family laugh every day.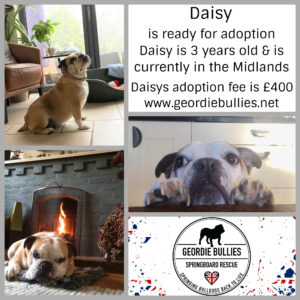 Dogs Name:  Daisy
Age:  3 years old
Can live with children: Yes aged 6 and over – because she needs a calm home
Can live with dogs:  Yes
Can live with cats:  Untested
Current location:  Midlands
 Things to be Aware of:
Daisy has a heart condition and is on tablets for the rest of her life for this. We will cover the cost of her heart medication and yearly heart scan.
Daisy barks the doorbell and she hates letters which she will rip to pieces if she gets to them first and she has the ears of a bat, she can hear a pin drop, so at bedtime she is put in the kitchen (the quietest room) with the blinds down.
Daisy can be wary of men, so a gentle approach is required.
The Ideal Family:
Daisy needs a loving, calm and peaceful home where she will be adored. Ideally, she will be adopted by a family that is home for most of the day so she can just mooch about at her own pace and enjoy the company. She is good around children and we have only stipulated an age guideline because she needs a calm environment. Dasiy will be equally happy in a home with children and dogs or on her own
Other comments:
As mentioned, Daisy has a heart condition, but she is remarkably well.
She is sensitive to noises so at night she could be crated with a crate cover which would help her settle.
Daisy isn't the best traveler so we are considering homes up to 3 hours from her current location.
She is spayed, up to date with her vaccinations, can be left for up to 4 hours and is toilet trained.
If you have any questions, please ask Sarah Stokes foster mum to Daisy.
Daisy's adoption fee is £400 and will need to be paid in full prior to her going home which will also be subject to a home check.
PLEASE READ CAREFULLY BEFORE APPLYING
1. Have you read the adoption criteria in full? You must meet ALL dog's criteria?
2. COMPLETE APPLICATION form and pay your £5 subscription
3 . PAYMENT REFERENCE must on the application form to cross reference.
4. PAYMENT METHOD : pay via PayPal www.paypal.me/gbspringboard or
Bank transfer Sort : 09.01.28 Acc : 92014344.
UNLESS WE SEE PROOF YOU HAVE PAID, WE CANNOT PROCESS YOUR APPLICATION .
£5 per year allows you to apply for as many dogs as you wish should you not be suitable on your first Application.
To apply, please complete the application form below
https://www.cognitoforms.com/GeordieBulliesSpringboard1/adoptionapplication
{"slide_to_show":"3","slide_to_scroll":"1","autoplay":"true","autoplay_speed":"3000","speed":"800","arrows":"true","dots":"false","loop":"true","centermode":"false"}