Darcee is a lovely girl who has come far in foster from a terrible start in life. She realises life can be good and she is becoming more playful and trusting. She is good with the children in her foster home and is getting used to their noises.

She really likes cuddles and fuss, but its on her terms and she lets you know when she wants some loving.

Darcee loves her toys and food and shows no aggression either with the dogs in foster, or with her foster family when paying or eating.

She enjoys her walks and will stay close by if she is off the lead and is non-reactive to dogs outside the home.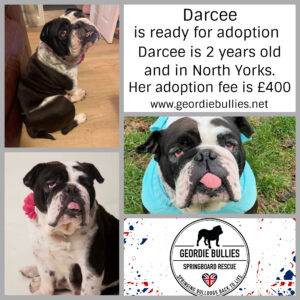 Dogs Name: Darcee
Age: 2 years
Can live with children: Yes
Can live with dogs: Yes with a friendly female dog
Can live with cats: Yes
Current location: North East Yorkshire

Things to be Aware of:
Darcee came to us in a very sorry state but she is making progress.
She has a skin condition which is controlled by Apoquel and a Raw Diet, which she must remain on. She also has 2 different eye drops 4-6 times a day for chronic dry eye which have worked wonders so this will need to be continued in her new home.

Darcee does not like male dogs

The Ideal Family:
Darcee really needs a home where she will not be left for long periods. As she is having regular eye drops she needs to be in a home where there is someone home to administer them, She loves her female dog companion so it would be nice for her to be re-homed with another friendly female dog.

Other comments:
This girl has flourished in her foster home and we have seen her start to 'come alive' with treatment for her eyes, ears and skin,

She is starting to show her character in her foster home and given and inch she will take a cheeky mile so she is given boundaries which will need to be continued in her new home.

Darcee is spayed and house trained. She can be left for a maximum of 4 hours and she travels well so we will consider a new home for her up to 4 hours from her current location.
If you have any questions, please ask Verity Carnie, foster mum to Darcee
Darcee's adoption fee is £400 and will need to be paid in full prior to her going home which will also be subject to a home check.
?? PLEASE READ CAREFULLY BEFORE APPLYING ??
1. Have you read the adoption criteria in full?  You must meet ALL dog's criteria.
2. COMPLETE APPLICATION form and pay your £5 subscription
3. PAYMENT REFERENCE must on the application form to cross reference.
4. PAYMENT METHOD : pay via PayPal www.paypal.me/gbspringboard or
Bank transfer Sort : 09.01.28 Acc : 92014344.
?? UNLESS WE SEE PROOF YOU HAVE PAID; WE CANNOT PROCESS YOUR APPLICATION ??.
£5 per year allows you to apply for as many dogs as you wish should you not be suitable on your first Application.
To apply, please complete the application form below
https://www.cognitoforms.com/GeordieBulliesSpringboard1/adoptionapplication