Darwin is described by his foster mum as a lively, friendly and happy young man. He is still very young and at times he resembles the energiser bunny!!! He can get bored easily and needs a family who can offer adventures outside and mental stimulation.
Darwin wears a harness and lead when going out walking and allows you to put these on with no issue at all. He walks well on a lead and doesn't pull at all. He happily walks on his own and is unbothered by dogs when out and about. In fact he will happily play and greet new friends.
Darwin has been allowed of his lead and so far he's been a good boy and come back when asked. This is a work in progress though and it is early days, continued training will be required.
Darwin is a young pup and still has lots to learn but he can sit and give a paw. He is very treat driven and his foster family use bits of food from his daily food allowance to aid training.
Darwin loves toys and can easily get bored, so unless you want your tv remote chewed then some tough toys are a must! Darwin also loves a bit of rough and tumble!
Darwin loves attention and doesn't mind being cleaned and pampered. He particularly loves being brushed!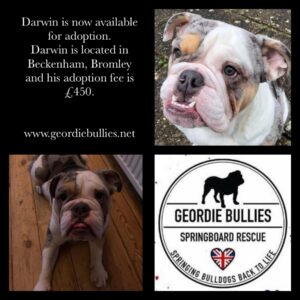 Dogs name: Darwin
Age: 17 months
Spayed/ Neutered: Yes
Can live with children:  Yes
Age of children : Dog Savvy children
Can live with dogs: No
Can live with cats: Untested
Current location: Beckenham, Bromley, Kent
How far can the dog travel from current location: 4 hours
Things to be aware of:  
Darwin is a very young dog still and is extremely bouncy. He has sadly been in 3 homes already during his short life, none of the moves being his fault. He does however need routine, stability and a family with the time to train him.
He needs firm boundaries and rules including keeping him off the sofa and beds to ensure his behaviour is good going forward.
Darwin is very bouncy and any children will need to be dog savvy to ensure they can help with his training and calm his behaviour when required. It would be preferable if the children could be involved in Darwin's training. We feel it would be beneficial for Darwin to go to a socialisation/training class.
Darwin hasn't been tested with cats so we are unsure what his reaction would be.
Though Darwin has been excellent out of the home with other dogs, he actually doesn't like to share his home so we feel that rehoming Darwin as an only dog would be best.
The ideal home: 
Darwin would be best placed with a family who are around at home a lot of the time. They need to have the time and energy to take Darwin on some excellent adventures outdoors and provide mental stimulation as he easily bores! We feel that in the right environment Darwin will flourish and become a wonderful companion.
As previously mentioned we feel Darwin would be best placed with children who are dog savvy and who can help with training.
Darwin would also be best as an only dog as he clearly loves all the attention to himself.
Other comments:
Darwin has been a pleasure in foster, he is young, energetic and full of beans! He will make an amazing addition to an active family who love getting outdoors for adventures. Darwin is still very young and needs firm rules and boundaries going forward. His new family need to be committed to training to ensure Darwin gains good behaviours.
Darwin is toilet trained and travels well, we will consider a new home for him up to 4 hours from his current location in Beckenham.
If you have any questions, please ask Tina Conlon  foster mum to Darwin.
Darwin's adoption fee is £450  and will need to be paid in full prior to going home which will also be subject to a home check.
?? PLEASE READ CAREFULLY BEFORE APPLYING ??
Have you read the adoption criteria in full?  You must meet ALL dog's criteria. 
COMPLETE APPLICATION form and pay your £5 subscription 
PAYMENT REFERENCE must on the application form to cross reference. 
PAYMENT METHOD : pay via PayPal www.paypal.me/gbspringboard or
Bank transfer Sort : 09.01.28 Acc : 92014344. 
?? UNLESS WE SEE PROOF YOU HAVE PAID; WE CANNOT PROCESS YOUR APPLICATION ??. 
£5 per year allows you to apply for as many dogs as you wish should you not be suitable on your first Application.
To apply, please complete the application form below
https://www.cognitoforms.com/GeordieBulliesSpringboard1/adoptionapplication
{"slide_to_show":"3","slide_to_scroll":"1","autoplay":"true","autoplay_speed":"3000","speed":"800","arrows":"true","dots":"false","loop":"true","centermode":"false"}