Esme is a lovely little girl who adores attention, strokes, and back scratches. She is playful and loves her tug of war toy.
She is excellent walking on her lead and will tolerate dogs on her walks if they stay out of her space.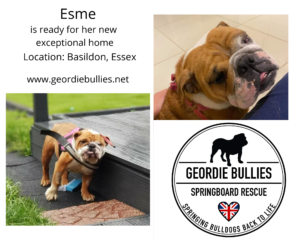 Dogs name:  Esme
Age:  3
Can live with children:  Yes aged 12 years and above
Can live with dogs:  No
Can live with cats:  No
Current location:  Basildon, Essex
Things to be aware of:  
Esme came to us after being rescued from a life on a balcony. Sadly, she had not received treatment for her kidney and bladder problems and is now in chronic renal failure.
This is being managed with regular medication and although her condition is life limiting, she has responded well to treatment and we are quietly optimistic that she will carry on at a level that gives her a good quality of life.
Esme is on specific wet & dry renal food which she needs to stay on.
Esme also suffers from Entropion but is not able to have this operated on because of her condition so she has a contact lens put in every 2 weeks to help protect her cornea from ulcers.
Esme's ongoing treatment will be covered by Geordie Bullies Springboard Rescue.
The ideal home: 
Esme requires an exceptional home with someone prepared to give her daily meds and take her back and forth to the vets as required.
She needs company for a good part of the day as has 2 types of eye drops 3 times a day and as she incontinent, she wears a nappy indoors which needs to be changed 4 hourly as part of her ongoing routine.
Other comments: 
We are looking for someone who will make the rest of Esme's life as comfortable, stress free and as normal as possible… is this you?, can you give Esme the commitment and the patience she needs ?
Esme will continue to be treated and regularly tested at her current vets' practice in Pitsea, Basildon Essex, therefore its essential she is rehomed within a reasonable driving distance of Pitsea.
All of Esme's medical costs, nappies and essential items will be covered by the charity forever and in return, all we ask is that she is loved and cared for.
If you have any questions, please ask us via PM on our Facebook Page https://www.facebook.com/geordiebullies
 We are not asking for an adoption fee for Esme, but we will be conducting an in-depth home check.
?? PLEASE READ CAREFULLY BEFORE APPLYING ??

1. Have you read the adoption criteria in full?  You must meet ALL dog's criteria.
2. COMPLETE APPLICATION form and pay your £5 subscription
3. PAYMENT REFERENCE must on the application form to cross reference.
4. PAYMENT METHOD : pay via PayPal www.paypal.me/gbspringboard or
Bank transfer Sort : 09.01.28 Acc : 92014344.

?? UNLESS WE SEE PROOF YOU HAVE PAID; WE CANNOT PROCESS YOUR APPLICATION ??.

£5 per year allows you to apply for as many dogs as you wish should you not be suitable on your first Application.
To apply, please complete the application form below

https://www.cognitoforms.com/GeordieBulliesSpringboard1/adoptionapplication
Apparently she has been continuously mated but hasn't taken, so obviously was of no use to her owners anymore.
It took a mammoth effort to get her which involved another lady putting up the £800 her owners wanted to buy her from their druggy hands so she would be safe.
She was dropped off at the ladies house, she then drove her to Stuart's house late last night .
Our wonderful foster's Justin Saint and Julie Saint drove early this morning to collect her. They have bathed her, cleaned her up, fed her some good food and she's spent the day sleeping now she's finally feeling warmth, love and care.
She will be seeing our vets tomorrow.
Huge huge thank you to Sarah Robinson ( Frank and Jelly's ) and Stuart for trusting GBSR to take care of her.
Esme will need a period of assessment to determine what kind of forever home she will require.
Please do not contact us regarding rehoming Esme yet as she is new to foster. Welcome to GBSR UK Esme! We cannot wait to share your journey
{"slide_to_show":"3","slide_to_scroll":"1","autoplay":"true","autoplay_speed":"3000","speed":"800","arrows":"true","dots":"false","loop":"true","centermode":"false"}