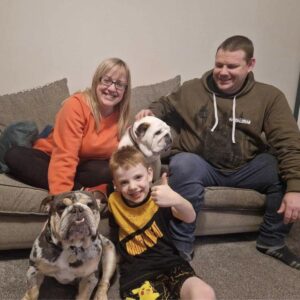 Special announcement
We are absolutely thrilled to announce that our very popular boy Dermot is now home.
Dermot was picked up on Saturday and has spent the weekend getting to know his new family.
Please join me in congratulating Micheala, Nick, little Lucas, and their gorgeous EB Rosie on their wonderful new boy Dermot.
We would like to say a special thank you to Toni and her family for preparing Dermot for his forever home. You have been fabulous, and we can't thank you enough.
To Dermot, enjoy your happy ever after sweet boy, we're looking forward to seeing all the new adventures with your lovely family.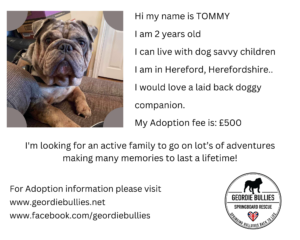 Dogs name:
Dermot
Age:
2years old.
Current location:
Basildon, Essex.
I CAN LIVE WITH
Children:
Yes, I love children.
Cats:
Yes, dog savvy cats.
Dogs:
Yes, laid back dogs.
A BIT ABOUT ME
Personality:
Dermot is a well-rounded young boy, he is incredibly affectionate, loves to play and happy to take himself off for a snooze in his bed!
He is the epitome of a companion breed and will happily spend his days at your side.
He really is a lovable teddy bear and in true bully form loves attention.
Behaviour:
Dermot is a very laid-back young boy and has very good doggy manners.
He has lived with cats and shows very little interest in them.
He may get a little excited with rough play but will stop when told and is very responsive to commands.
Needs:
Dermot is suited to almost all family environments; he needs a family who is able to keep him involved in all that is family life and adventures.
Preferably someone at home the majority of the day or able to take him along with you.
A garden is a must for him, to play and explore all the smells to offer.
Dermot would benefit from a calm companion for when his humans are away.
Walk/exercise:
Dermot loves a walk, and he walks very well on the lead.
He loves meeting new dogs and people and is happy to sniff and play.
Dermot has good recall once he has built up trust in you, he likes to stay close but will have a little wander and come when called.
Toilet trained:
Dermot is a good boy but has been used to using puppy pads.
He is doing very well going outside when told to but will on occasion have an accident if left for long periods of time, or not prompted.
Can be left:
Dermot can be left for up to 4hours, with puppy pads in case of accidents.
He will settle himself in his bed and wait for you to come home.
Travel:
Dermot loves the car; he will be the best travel companion. Because of this we will accept applications of up to 4 hours from his current location.
Things to be aware of:
Dermot may need a toileting routine as he settles.
Any young children in the home must be supervised, as Dermot has the potential to jump and knock smaller children over in play.
Children must understand that bulldogs need time to settle in and have space to rest peacefully and uninterrupted.
Additional information:
Dermot is a "Teddy bear" and is looking for his happily ever after fairytale of children, dogs and all thing's family! He truly is the sweetest boy full of love just waiting for his family!
A little of Dermot's story below,
Please welcome the very sweet and itchy Little Dermot to our GBSR family!!
Dermot is a 2-year-old entire male.
On Monday we were alerted to an ad which had Dermot up for sale, we were concerned that he would fall into the wrong hands, so we made contact with his owner to offer our help.
Dermot's owner gave him to someone who could no longer care for him. So, when we contacted them, they were happy to take up our offer of help. So, we can ensure Dermot is well cared for.
Dermot is proving to be such a sweet and happy little boy; he has stolen our hearts already and it won't be long before he has yours too.
Huge thank you to Toni for collecting Dermot so quickly, he isn't in poor condition at all, but we do have a few little concerns and unfortunately is covered in flees. Which as you can imagine wasn't a happy surprise for Toni when she got home with him.
Thankfully our vet prescribed some flee treatment and he is booked in next week to have a thorough health check.
So welcome to your GBSR UK journey handsome boy, we can't wait to share it with you. 
Follow Dermot https://www.facebook.com/geordiebullies
For more updates on all our dogs please join our community group
https://www.facebook.com/groups/1793138384086708/
{"slide_to_show":"3","slide_to_scroll":"1","autoplay":"true","autoplay_speed":"3000","speed":"800","arrows":"true","dots":"false","loop":"true","centermode":"false"}