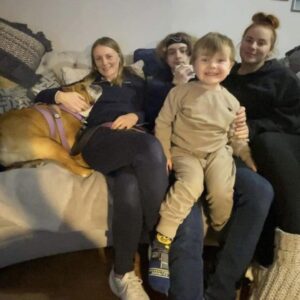 It is with great joy that we are now able to announce that our beautiful girl Ayva is home
Ayva was collected by her mum Carli and her 3 children, Chloe, Taylor, and Harley.
They have all fallen instantly in love with her, how could they not!!
She has spent the weekend settling in, exploring her new home and going on some lovely walks. She is such a sweetheart and so happy to be starting her happily ever after.
We would like to thank Pammy and Mark for being absolutely fabulous foster Nanny and Grandad to Ayva, you have prepared her beautifully for her forever home and we can't thank you enough.
So would you all please join us in congratulating Carli and her children on their wonderful new girl Ayva.
We wish you many happy years together.
To Ayva, happy new home darling. We can't wait to hear all about your adventures with your very own family.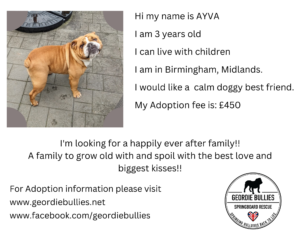 Dogs name:
Ayva
Age:
3 years old.
Current location:
Birmingham, Midlands.
I CAN LIVE WITH
Children:
Yes, dog savvy children.
Cats:
No
Dogs:
Yes, calm and laid-back dogs.
A BIT ABOUT ME
Personality:
Ayva is a gentle and timid soul.
She prefers the "quiet life" happy to relax and spoil her humans with affection.
She isn't a playful girl but likes to watch the world go by.
The perfect best friend to be by your side.
Behaviour:
Ayva is spooked with loud noises and will bark but with gentle reassurance she comes round.
She doesn't like to share her garden with cats but enjoys a doggy companion.
Ayva doesn't understand "play behaviours" but with the right companion and reassurance from her family she will learn.
Ayva is a very curious little girl and will eat items like paper, cardboard, small items and possibly any children's small toys so its best kept out of reach.
Needs:
Ayva needs a calm home environment, with a family that will spend their days spoiling her. Preferably with someone home the majority of the day as she depends on her humans.
Any dogs in the home must be calm and laid-back, with slow introductions to start.
Walk/exercise:
Ayva loves a walk and walks well with company or by herself.
She likes to keep by your side and is happy to meet other dogs and humans.
Toilet trained:
Ayva needs a toileting routine as she doesn't know how to indicate that she needs outside.
With a good routine she does very well.
Ayva does on occasion wet her bed, this will calm as she settles in her new environment.
Can be left:
Ayva can be left for up to 4 hours, she will take herself to her bed and be so happy when you come home. She may have accidents when left.
Travel:
Ayva travels well, because of this we will accept applications of up to 4 hours away from her current location.
Things to be aware of:
Ayva needs a controlled diet; we recommend she stays on her current food James Wellbeloved fish and rice due to allergies.
Her allergies are controlled by her diet.
Any young children in the home must be supervised, as Ayva has the potential to jump and knock smaller children over if spooked.
Children must understand that bulldogs need time to settle in and have space to rest peacefully and uninterrupted.
We advise slow introductions to resident dogs and can support you with how to.
Additional information:
Ayva is the sweetest soul and will be such a happy addition to any family home lucky enough to adopt her. She truly deserves her happily ever after!
A little of Ayva's story below,
Please welcome the beautiful and smiley Ayva to our GBSR family!!
Ayva is a 3year old entire female.
Ayva is a terribly sad surrender and was loved and adored by her family so please no judgment!
We contacted Ayva's family through an ad that we had been sent by our supporters.
Once we heard their story, we knew we had to help.
Ayva's mum has some health issues that sadly now affect her mobility and hearing which meant Ayva wasn't getting the care she needed. The stress and worry about what would happen to Ayva was becoming all too much.
Sometimes our role is to help the family's just as much as it is to help these precious dogs.
Thank you, Pam and Mark, for collecting Ayva today and opening your home to her.
Ayva is in foster in the Midlands.
Ayva is a sweet little soul, that has the most beautiful smile. She is a little withdrawn and quiet but that's to be expected as this is a lot to go through. But she's wasting no time exploring the garden and getting cuddles with foster dad Mark!
So welcome to your GBSR UK journey beautiful girl, we can't wait to share it with you. 
Follow Ayva https://www.facebook.com/geordiebullies
For more updates on all our dogs please join our community group
https://www.facebook.com/groups/1793138384086708/
{"slide_to_show":"3","slide_to_scroll":"1","autoplay":"true","autoplay_speed":"3000","speed":"800","arrows":"true","dots":"false","loop":"true","centermode":"false"}