Dolly is an adorable and funny girl who just loves snuggling in for cuddles and strokes. She isn't overly playful with toys but she does like footballs, a little too much, and they don't last long so she now plays with her boomer ball which she really likes.
She isn't too stubborn, although she has been known to plonk herself down and not move during a walk, in typical Bulldog style.
Dolly is ok meeting other dogs but sometimes she will bark at them with excitement, and she is a real water baby and just loves water.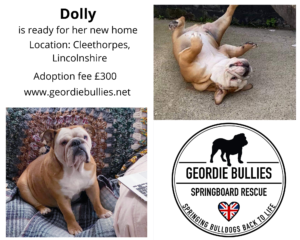 Dogs name:  Dolly
Age:  6 Years 10 months
Can live with children:  Yes, see below
Can live with dogs:  No
Can live with cats:  Yes
Current location:  Cleethorpes, Lincolnshire
Things to be aware of: 
Dolly had severe dry eye when she first came into foster in 2018 and she had surgery to transplant a salivary gland from each cheek to each eye which has proved successful, however, the damage had already been done and Dolly has limited eyesight and sometimes she will lunge at traffic if she is walked on the road. Her foster mum manages this easily with a simple command and Dolly is walked on the inside of the path.
Dollys eyes will need a daily clean (this is very easy) and drops if they become a bit inflamed. Dolly is very used to having this done.
The ideal home: 
Because of Dolly's limited eyesight she can be startled and isn't keen on children in her face so we feel any children in the home should be aged 12 years and over, and she would love having playmates to have cuddles and play football with.
Equally she would be very much at home with an older couple that are around for most of the day that can walk her out and provide company as she is a loveable girl.
Other comments: 
Dollys foster mum describes Dolly as an amazing little girl with lots of love to give, she is funny and quirky and very easy to have in the home.
Dolly travels well and we will consider a new home up to 4 hours from her current location.
Dolly's adoption donation fee is £300 and will need to be paid in full prior to her going home which will also be subject to a home check.
? PLEASE READ CAREFULLY BEFORE APPLYING ?
1. Have you read the adoption criteria in full?  You must meet ALL dog's criteria.
2. COMPLETE APPLICATION form and pay your £5 subscription
3. PAYMENT REFERENCE must on the application form to cross reference.
4. PAYMENT METHOD : pay via PayPal www.paypal.me/gbspringboard or
Bank transfer Sort : 09.01.28 Acc : 92014344.
? UNLESS WE SEE PROOF YOU HAVE PAID; WE CANNOT PROCESS YOUR APPLICATION ?.
£5 per year allows you to apply for as many dogs as you wish should you not be suitable on your first Application.
To apply, please complete the application form below
https://www.cognitoforms.com/GeordieBulliesSpringboard1/adoptionapplication