Dolly is a young, energetic girl who loves to be on the go and be involved in everything. She is loving and enjoys cuddles and strokes. She can be a little nervous and unsure around new people, but she soon relaxes. She loves playtime but can become mouthy like any puppy but there is no aggression.
Dolly is great out on her walks and is friendly to other dogs. She is learning new commands such as sit and paw and she is getting the hang of recall … if there aren't too many distractions around!!.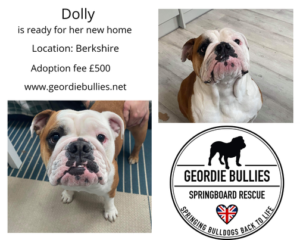 Dogs name:  Dolly
Age:  1 year
Can live with children:  Yes, dog savvy children aged 5 years and above.
Can live with dogs:  Yes a friendly young dog
Can live with cats:  Untested
Current location:  Reading, Berkshire
Things to be aware of: 
Dolly is prone to allergies which affect her ears and eyes so she needs regular Piriton
The ideal home: 
Dolly is a young girl who is best suited to an active but calm home where she will get walked twice a day so she can run off some energy. Ideally, we would prefer her to be rehomed with an equally friendly and playful dog.
Because she is still young and can be mouthy, any children in the home will need to be dog savvy and aged 5 and over.
Other comments: 
Dolly has been an absolute delight in foster. She is still puppyish but responds well to structured walks and playtime. And in the words of her foster mum, she needs firm boundaries and buckets of cuddles.
Dolly is spayed and travels well in the car so we will consider the perfect home for her up to 4 hours from her current location.
If you have any questions, please ask Bev Thomas foster mum to Dolly
Dolly's adoption fee is £500 and will need to be paid in full prior to her going home which will also be subject to a home check.?? PLEASE READ CAREFULLY BEFORE APPLYING ??

1. Have you read the adoption criteria in full?  You must meet ALL dog's criteria.
2. COMPLETE APPLICATION form and pay your £5 subscription
3. PAYMENT REFERENCE must on the application form to cross reference.
4. PAYMENT METHOD : pay via PayPal www.paypal.me/gbspringboard or
Bank transfer Sort : 09.01.28 Acc : 92014344.

?? UNLESS WE SEE PROOF YOU HAVE PAID; WE CANNOT PROCESS YOUR APPLICATION ??.

£5 per year allows you to apply for as many dogs as you wish should you not be suitable on your first Application.
To apply, please complete the application form below

https://www.cognitoforms.com/GeordieBulliesSpringboard1/adoptionapplication