Doris is a lively energetic young girl who loves her toys. She is very playful and enjoys walking. She isn't reactive to dogs on her walks and she is still learning manners and boundaries at home. She has learnt to sit and to get down, but her recall hasn't been tested yet. She is excitable and loves having a fuss and being bathed and groomed.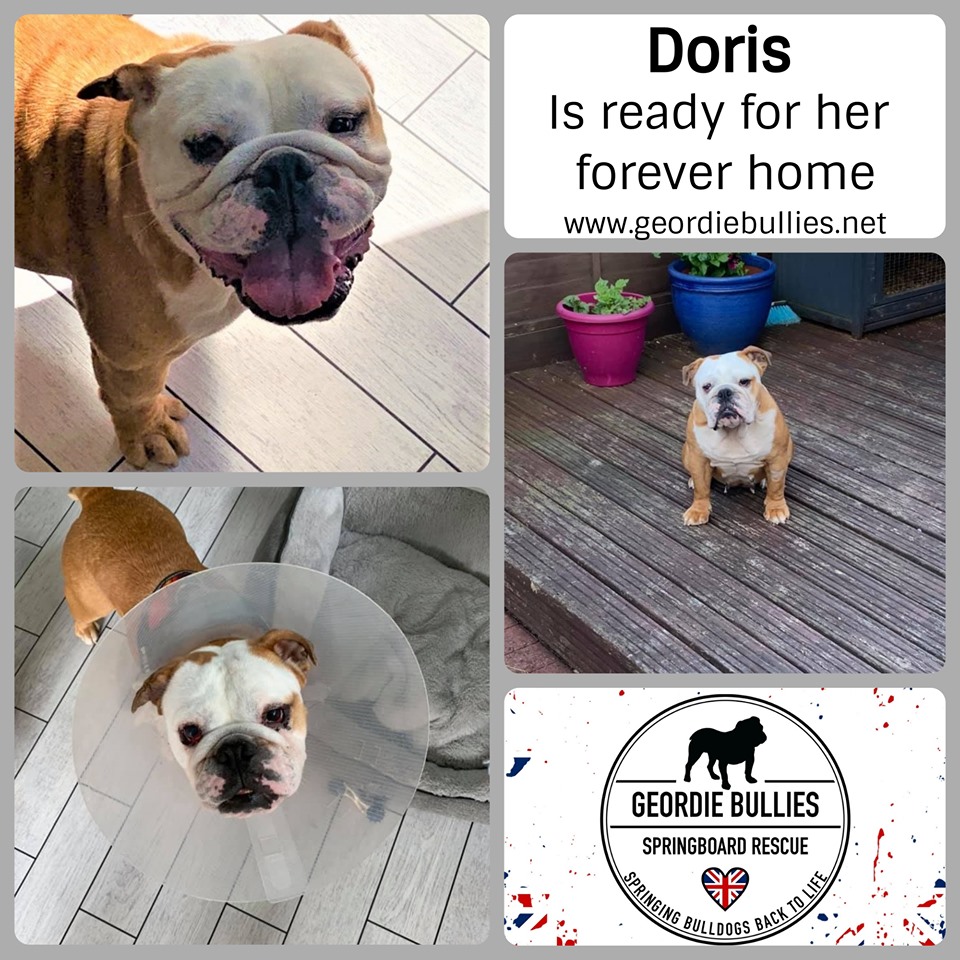 Name: Doris
Age: 2 years old
Can live with children: Yes
Can live with dogs: No
Can live with cats: Yes
Current Location: Midlands
Things to be Aware of:
Being a young dog with limited previous training, Doris can be giddy around children and doesn't understand she mustn't jump up.
For this reason, we will be looking for a home with children aged 8 years and over.
When she gets excited Doris has sometimes nipped, this is not aggression just excitement in a young dog. With continued training she will learn to be calmer and continue to respond to commands.
Doris came to us suffering from severe cherry eye and the glands have now been removed from each eye. Ongoing she will need lubricating eye drops which will need to be administered as part of her daily routine. These eye drops are easily purchased over the counter, we will advise.
Doris has also suffered a previous trauma to her ear that was left untreated. This shouldn't be an ongoing problem, but her new owners will need to check regularly that the ear is clean and healthy.
The Ideal Family:
Doris' ideal family with be an energetic one. She needs a family that will take her out walking and who will continue to enforce the boundaries and commands her foster family have set and take her to training classes if required. With continued training she will be an amazing member of any family. She can be left un-crated for short periods up to a maximum of 4 hours during the day and she is toilet trained.
Other comments:
Doris really is a smashing young girl who needs a family that understands the importance of continued training and an active family that will take her out for plenty of exercise.
She does travel but she can get stressed and we have found she settles better in a crate. Ideally, we will be looking for a new home within 3 to 4 hours maximum, from her current location.
Doris has been spayed and is up to date with her vaccinations and wormer.
If you have any questions, please ask Louise Toon, foster mum to Doris
Dori's adoption fee is £400 and will need to be paid in full prior to her going home which will also be subject to a home check.
*** As of April 2019, Geordie Bullies Springboard are introducing a small charge to apply to adopt a dog from our charity. ***
Why are we introducing this charge?
We have an increasing number of applications for each of our dogs. Each application is processed by a volunteer and where appropriate, a home check is carried out. We have had a high number of applications, where for various reasons, the applicants have changed their mind after we have put in a lot of work to process the application and arrangement of home checks. Furthermore, we pay volunteers fuel expenses to carry out home checks, which is an increasing cost the charity is covering, unfortunately with ever increasing vets bills this will help cover just a small percentage of what we pay out. We have people cancelling home checks where a volunteer is on the way to see them, but the fuel must still be paid.
We need to ensure that when we are processing an application that the applicant is 100% sure they are ready to adopt, this is a huge commitment and a decision not to be taken lightly, and that the person who has filled in the application has read the bulldogs criteria and meets all the requirements for the dog.
How will it work?
We will be charging £5.00 per year for membership to apply for a bulldog with the charity, this will also cover the cost of a home check if required.
This fee will cover you for one year from the date you apply, you do not pay per application.
For example, you apply for a dog and pay your £5.00 membership, you have a home check and are not successful for that dog, so you apply again for another dog a few months after, you will not pay another £5.00 assuming your situation is the same.
Please note, there is an exception to the above. If you pay your £5.00 and move within the year and require another home check before you have been successful, there will be a further £5.00 charge to cover volunteer expenses of carrying out a new home check.
Your responsibility as an applicant
When you are applying for a dog, you MUST make sure you meet the adoption criteria and you are 100% sure you are ready to open your heart and home to a rescue dog. Please pay attention to the requirements of the dog, in particular, consider the following.
• How far the dog can travel in relation to where you live.
• The suitability of the dog should you wish to add to your pack later. Does the dog you are applying to adopt like other dogs?
• Are there any restrictions with the age of children the dog can be rehomed with? If so, how does this match your family unit?
If you apply for a dog and pay your £5.00 and we cannot progress your application because you do not meet the criteria, we cannot refund your £5.00 or take responsibility for your error, hence we ask you to read the bulldogs adoption criteria carefully.
Prior to completing an application form, you will need to pay the £5.00 fee via PayPal.
Please put the name of the dog and your name as reference. E.g. Joe Bloggs (your name) / Bella (dogs name). Please make a note of your payment reference number. PLEASE also ensure you select friends and family to avoid fees for the charity, the fees are an extra 30p if you wish to pay goods and services so £5.30 instead of £5.00
When completing the adoption application form, you will be prompted to enter your PayPal reference number and date of payment. If this is not entered, we will not process your application.
Our email address for PayPal is gbspringboard@gmail.com
We hope this is all clear, any questions, please ask on our Geordie Bullies Springboard rescue page, we have a message inbox on there that comes directly to the administration team.
The charity is a not for profit organisation, we have a huge running cost that must be met. Home checks are an area we have identified that are an expense to the charity and we need to put back into the fund to continue the good work we do.
Good luck with your application and Best wishes
Helen, Clair and The GBSR Team
To apply, please complete the application form below
https://www.cognitoforms.com/GeordieBulliesSpringboard1/adoptionapplication
{"slide_to_show":"3","slide_to_scroll":"1","autoplay":"true","autoplay_speed":"3000","speed":"800","arrows":"true","dots":"false","loop":"true","centermode":"false"}