Dottie & Phoenix – Now Adopted!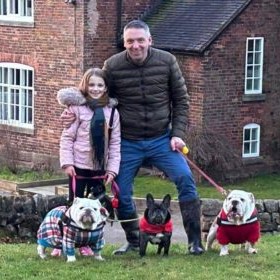 Dottie & Phoenix are Home!
Dottie & Phoenix have been very excited to finally be with their new and very excited family, Sam, Jackie and their daughter Emilia.
The girls have settled very well into their new home and snored their first night away together in stereo.
They are slowly making friends with their new sister Coco, the French Bulldog, and we are sure it won't be long before the three of them are BFF
We would like to say a massive thank you to our wonderful foster mum Marie and her family for taking good care of the girls and preparing them for their forever home  Thank you so much Marie, we are very grateful as always for your care and dedication.
So with no further ado, please join us in congratulating Sam, Jackie and their family on their instant bulldog family, we wish you many years of happiness and joy together 
To Dottie and Phoenix, congratulations on finding your forever family  Please be good and we look forward to seeing what wonderful antics you get up to with your family and Coco. Be happy girls 
A little of the girls story below,
These girls are a beautiful, bonded pair.
Dottie is an extremely affectionate little girl who will happily spend her days being cuddled and fussed on, her whole body will wiggle in excitement and she will jump up and pop her paws right up on you to get in all that closer for those cuddles.
Phoenix definitely suits her name as you will find her cuddled up in front of the fire, she has no problem reminding you she needs love and cuddles too with a bark, she will make sure she gets her fair share of attention.
Both these girls have wonderful personalities and are every bit the typical bulldog. Neither are overly playful with toys, and tend to prefer the softer squeaky toys and a tennis ball. And will on occasion have a game of bulldog bitey face.
Both girls are very gentle in nature. Both girls have settled well with the resident dog. And both enjoy gentle walks but are just as happy to snooze somewhere cosy.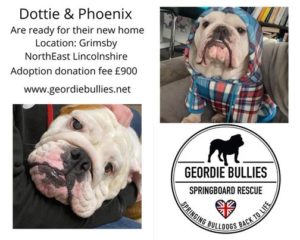 Dogs name: Dottie & Phoenix
Age: Dottie 2 Phoenix 3
Can live with children: Yes, Dog Savvy Children
Can live with dogs: Yes, laid back spayed/neutered dog           
Can live with cats: Untested
Current location: Grimsby, North East Lincolnshire
Other comments:
This stunning quirky bonded pair will be a truly fantastic addition to a family. They will bring bundles of love and so much entertainment. The perfect additions to complete your family.
{"slide_to_show":"3","slide_to_scroll":"1","autoplay":"true","autoplay_speed":"3000","speed":"800","arrows":"true","dots":"false","loop":"true","centermode":"false"}