Dotty – Adoption Closed- Scotland
Dotty is a head strong but sweet young girl, who had been living in her sister's shadow. Since separating Dotty from her sister, she has completely come out of her shell.
Dotty has become an extremely affectionate little girl, who now goes out of her way to seek you out for a cuddle.
Dotty has enjoyed living in the home with children to play with, Any young children in the home must be supervised as Dotty has the potential to knock them over.
Dotty does struggle with separation anxiety, expected as she spent her life with her sister, with gentle reassurance and support this will ease over time.
Dotty has had BOAS surgery while in foster so at the moment she tires easily. But the change in her since the surgery has been incredible.
Dotty absolutely loves a walk, she can pull with excitement but this will stop with continued training.
Out the home on walks Dotty can be nervous towards unfamiliar dogs.
However, she is very responsive to verbal commands to stop. And has walked very well in a pack with a dog walker after introductions were made.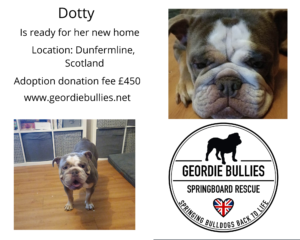 Dogs name: Dotty.
Age: 3years old. 
Can live with children: Yes, dog savvy children 8+
Can live with dogs: Yes, calm and laid-back dogs, no entire males or females.
Can live with cats: Untested.
Current location: Dunfermline, Scotland.
Things to be aware of: 
Dotty can be nervous of new dogs Any introductions to resident dogs must be done slowly, and we can guide you through the best ways to do so. Dotty will be going home on a to be spayed contract as of the 16th May. Due to season. This will be done at a Vet of the charities choosing, costs covered by the charity. Any training began in foster must continue into her new home, and new family must be prepared to seek further training if it is needed, to give Dotty the best possible chance at her happily ever after. Dotty has undergone BOAS surgery recently so walks/exercise must be kept to a minimum as she heals. Dotty does not like cats at all.
The ideal home: 
Dotty needs a calm family home. One where she can be included in family daily life. And one where she isn't left alone for long periods of time. New owners need to understand BOAS surgery and how to help her gain her strength and stamina. And have some understanding in supporting a nervous dog out of the home. Any young children must be supervised as Dotty has the potential to knock them over. 
Other comments:
Dotty took no time at all to steal the hearts of us all here at GBSR. She has a beautiful inner shine that comes through, in some of the ways she looks at you. The decision to separate the sisters is in hope that she comes out of her shell more, was most definitely the right one. She has truly bloomed into such a loving little girl.    
Dotty' adoption donation fee is £450 and will need to be paid in full prior to her going home which will also be subject to a home check.
**The successful applicant will need to have an active Facebook and Messenger account for the life of the dog. If you cannot agree to this, please don't apply**
? PLEASE READ CAREFULLY BEFORE APPLYING ?
You MUST MEET ALL the dogs' criteria, have you read the adoption criteria in full?
COMPLETE APPLICATION FORM
PAY YOUR £5 SUBSCRIPTION – SEE NOTE BELOW*
PAYMENT REFERENCE must on the application form to cross reference. Mention if you have paid by Paypal or Bank Transfer if you are unable to provide a Transaction Number so we can check.
PAYMENT METHOD Via Enthuse using the link below.
https://geordiebullies.enthuse.com/donate
Note:
UNLESS WE SEE PROOF YOU HAVE PAID; WE WILL NOT PROCESS YOUR APPLICATION AND YOU WILL NOT BE CONTACTED.
£5 per year allows you to apply for as many dogs as you wish over a 12 month period from your first  application. Please mention if you have paid by Paypal or Bank Transfer on any previous applications so we can cross reference.
Below is the link to the Application Form.
https://www.cognitoforms.com/GeordieBulliesSpringboard1/adoptionapplication
A little of Dotty's story below,
Please say hello and welcome to Dotty.
Dotty is a 2.5 year's old female.
Dotty came into GBSR with her younger sister Missy 1.5years old. But we have made the decision to rehome them separately due to conflicts between the pair.
We were contacted by their owner to see if we could re-home them. She originally asked someone to take them, but after not being able to contact the family involved, she was concerned and asked to see them.
When she went to visit, she felt they needed more care than they were getting and took them home again and called us.
Poor Dotty is struggling with her breathing and after their vet visit today it's discovered she needs BOAS surgery. She's out of breath very easily and is sucking in her chest to breathe. It's devastatingly sad to watch. We have booked her in with our vet next week to look at x-rays for Dotty to see what we are dealing with and how best to help her. Dotty's surgery is around £1800 for BOAS and spay it just never ends.
A big thank you to Heather for opening her home for yet more foster dogs and for collecting the girls. They are foster in the North East
When she is ready for her forever home her Adoption Poster will be shared, so please keep your eyes peeled for more Dotty updates.
Welcome to your GBSR Family! We cannot wait to share the next chapter of your life with you!
Follow Dotty https://www.facebook.com/geordiebullies/
{"slide_to_show":"3","slide_to_scroll":"1","autoplay":"true","autoplay_speed":"3000","speed":"800","arrows":"true","dots":"false","loop":"true","centermode":"false"}